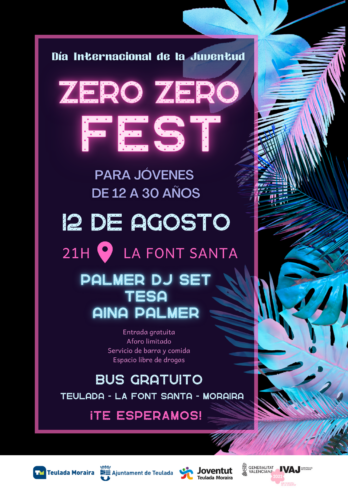 The Youth Department of Teulada Town Hall, delegated to Verónica Martínez, has organized the first festival "zero zero" aimed at young people between the ages of 12 and 30.
Thus, this August 12 from 9:00 p.m., all young people from the municipality and surroundings are invited to attend the 'Zero Zero Fest'. Admission is free and there will be bar and food service. The first 200 attendees will have a free drink and sandwich.
For the displacement there will be a service of free bus bidirectional Teulada – La Font Santa – Moraira with the following schedules:
Departure from the bus stop in front of the Consum de Teulada towards Font Santa: a trip at 8:15 p.m.
Departure from the Espai La Senieta stop in Moraira towards Font Santa: a trip at 8:45 p.m.
From 1:30 a.m. when the events end, there will be a bus service back home.
Departure from Font Santa towards Teulada: one trip at 1:30 and another at 2:30.
Departure from Font Santa towards Moraira: one trip at 2:00 a.m. and another at 3:00 a.m.
The festival will be enlivened with different musical styles by Palmer DJ Set, Tesa and Aina Palmer. It should be noted that the styles have been proposed by IES Teulada students, who through a survey with the music department and youth technicians marked their preferences.
«Active listening to our young people is essential and as a result of these spaces for dialogue, the idea of holding a festival for young people for the first time has emerged. A drug-free festival where various artists of the musical genre that the IES Teulada students themselves have chosen will perform. I encourage all the youth of Teulada Moraira and neighboring towns to enjoy this event", said the councilor, Verónica Martínez.