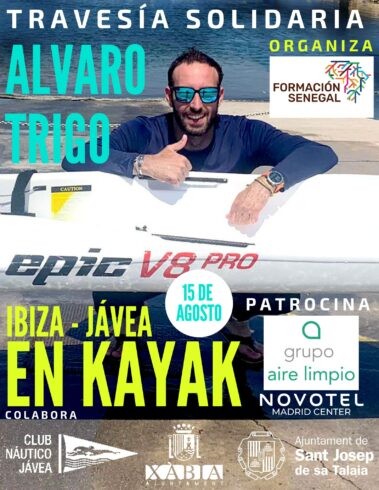 the triathlete alvaro wheat will sail in kayak from Ibiza until Xàbia next August 14. The athlete, who is an example of personal improvement, will carry out this challenge to give visibility to the lives that are lost at sea due to the immigration. It will be a journey of almost 100km, departing from Playa del Hort in Ibiza on August 14 to Arenal de Xàbia, which will last between 22 and 24 hours with arrival on the 15th.
The route is organized by the NGDO Training Senegal and sponsored by the Clean Air Group, with the support of the Jávea Yacht Club and the Sant Josep de sa Talaia and Xàbia Town Halls. The objective is to raise funds and give visibility to Formación Senegal, a Valencian NGO that works in Senegal training young people without resources to facilitate their access to the labor market and avoid dangerous migrations.
Álvaro Trigo suffered a serious domestic accident in 2018 and was about to burn to death. Since his miraculous recovery, he has been doing solidarity challenges with the aim of raising awareness and making visible the problems of the most vulnerable. In this case, he focuses on the drama of migration by sea that takes so many lives.