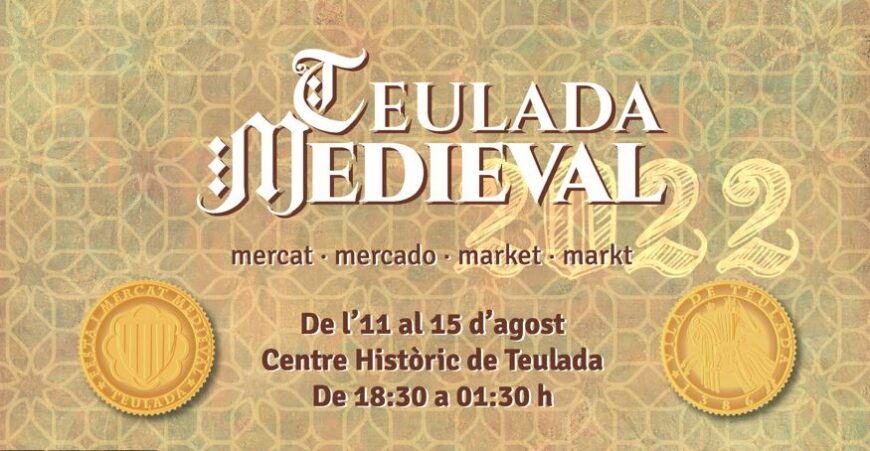 from the department of Culture of the Teulada City Council, the 2022 edition of the medieval market from Teulada, from August 11 to 15 from 6:30 p.m. to 1:30 a.m. An event that extends its celebration days and the assembly space for a greater enjoyment of its visitors.
The public will be able to find, as in previous editions, medieval characters on stilts, belly dancing, participatory theater, fakir sessions, dueling knights, dromedaries for a walk, Andalusian music, the tearoom, leather craft workshop with participatory workshop, aromas , etc.
Programming
Thursday August 11
7:30 p.m. Concentration for the inauguration parade of the Festival and Medieval Market in the assembly hall of the Teulada City Hall.
8:00 p.m. Inauguration parade of the Festival and Medieval Market. From C/Benissa to Plaza de los Porches. Upon reaching the square, the Queen of the Festival and the mayor will speak as a welcome to the festivity. Next, the Teuladina Choir and the Colla el Falçó, Association of Dolçainers and Tabaleters of Teulada will perform.
9:30 p.m. and 11:00 p.m. Knights Tournament, wood on horseback and combat on foot.
Friday August 12
8:00 p.m. Traditional Valencian dances. Performance by the Grup de Danses Font Santa in the Plaza de la Iglesia.
10:00 p.m. Fresh cinema. Projection of the film "The Knights of the Square Table and their Crazy Followers" in the Plaza del Ayuntamiento.
Saturday August 13
From 7:00 p.m. to 01:00 a.m. Exhibition of "L'scaldada de la pansa" with documentary projection, by the Amics de Teulada Cultural Association in the Plaza del Ayuntamiento.
Sunday August 14
10:00 p.m., 10:30 p.m., 11:00 p.m. and 11:30 p.m. Video mapping projection in the Plaza de los Porches.