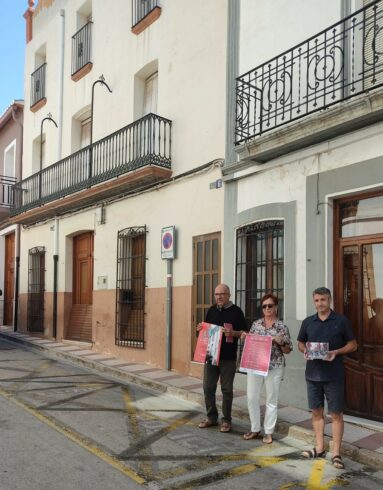 The council of Culture of the Gata Town Hall wants to recover all its splendor and return to normality with the XIX edition of the exhibition of Art to the Vent that can be visited on La Balsa street from August 12 to September 4.
In this edition there are 56 works from 17 countries that will be exhibited. The works have come from places like Spain, Italy, Argentina, China, Russia, France, Brazil, Mexico, United Kingdom, USA, Chile, Japan, Haiti, Egypt, Poland, Morocco, Ukraine. For the Councilor for Culture, an important fact is that two works from the two countries in conflict, Russia and Ukraine, have coincided, which, after speaking with the authors, will be displayed together on the balcony of the City Hall.
The director of the exhibition, Josep Ginestar, wanted to highlight the original edition of the catalog of Art al Vent as a reinterpretation of a tradition, capturing the image of the typical quilts that the balconies wear on holidays and processions.
Both the Councilor for Culture, Àngels Soler, and Ginestar have agreed that in these nineteen years of experience the sample has been consolidated and has grown in quality. And, as usual, a varied complementary program has been organized to invite people to go out into the streets, ranging from cinema, musical performances by the colla el Montgó, the La Llata dance group, the Gata Youth Band, presentation from the documentary We come from the rain and, as a conclusion to the exhibition, the performance of the Oma, the Orchestra of the Marina Alta.
All the information about the exhibition can be found in the Web of the call to facilitate access to the information of participants and visitors who can consult the news.
Programming