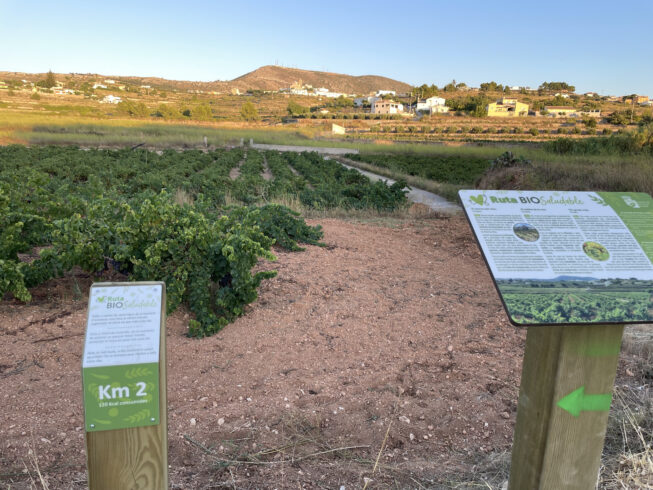 El Poble Nou de Benitatxell It is surrounded by cultivated fields, natural spaces and play areas. Taking advantage of this perfect setting for practicing sports and leisure in the open air, the City Council has created a new Bio-healthy route, with an itinerary whose objective is to promote healthy lifestyle habits.
On Tuesday the tour was inaugurated with a popular march framed within the programming of Agost a la fresca. Between vineyard terraces and buildings of great heritage value such as the Pous de l'Abiar or the dry stone walls, a group of hikers was able to enjoy a walk at sunset with magnificent views.
The route begins in front of the pizzeria on Avenida de València and ends at the viewpoint of the church. Throughout it, walkers can find various panels and markers with information on the kilometers travelled, the calories consumed during exercise or the benefits of the food that is traditionally grown in the municipality.
The initial board houses QR with the two variants of the route in Wikiloc: that of l'Abiar, of 4.3 km that takes between 40 minutes and an hour and a half, and that of l'Abiar – Les Fonts, of 6.6 km and that lasts between 1 hour and 2 hours and 10 minutes. It also offers bio-advice and stretching proposals. In addition, every kilometer traveled there are small posts with motivating phrases.
"It is a route designed for all audiences, both for families with boys and girls who want to take a pleasant walk in spectacular surroundings, as well as for more seasoned runners. The objective, in both cases, is to promote a healthy lifestyle and, at the same time, for people to get to know our natural environment and its architectural heritage", pointed out the Councilor for Tourism, Víctor Bisquert.