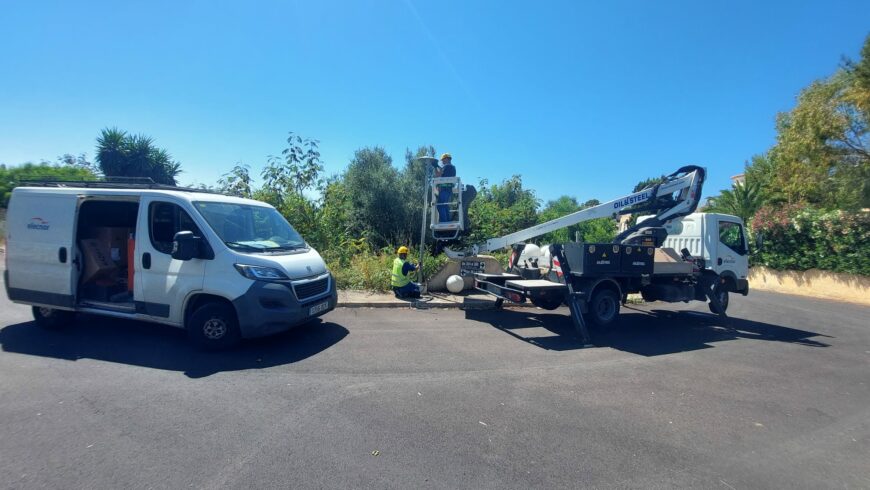 thanks to one grant of the Valencian Institute of Business Competitiveness (Ivace), the City Council of El Poble Nou de Benitatxell has replaced a total of 355 streetlights conventional by LED luminaires in different areas and urbanizations of the municipality. 149,907 euros have been invested between Ivace and the Consistory to 50% (each entity has contributed 74,953.50 euros).
In the absence of installing the last lampposts, the areas where action has been taken are the urban area, the Xàbia highway, the Camí de l'Assegador (northern access to Cumbre del Sol), the Villotel-Madroñal urbanization and Cumbre del Sol, specifically in the areas of Adelfas, Dalias, Girasoles and Magnolias.
This is one of the various actions in terms of Street lighting that have already been carried out in the municipality with the aim of improving historical deficiencies and, at the same time, continuing to promote energy saving and efficiency measures.
In 2020, an energy audit was prepared to find out the status of the entire municipal electrical installation and thus be eligible for this aid from Ivace and other lines, such as the subsidy to the Alicante Provincial Council to install solar streetlights on rural roads. At the same time, last February the company that was awarded the contract for the maintenance and upkeep of the public lighting installations joined.
Subsidy to renovate the entire municipality
But the most important action in this matter is expected to be carried out soon with the DUS 5000 Program of the Institute for Energy Diversification and Saving (IDAE). And it is that last December 2021, the City Council requested aid for investments in unique local clean energy projects within the framework of the Regeneration and Demographic Challenge Program of the Recovery, Transformation and Resilience Plan. Specifically, line 4 for the fight against light pollution, efficient and intelligent lighting, Smart Rural and ICT.
With it they hope to receive a large amount of help to replace the rest of the luminaires in the municipality with LED technology. With this action, all the public lighting in the municipal area would be renewed and an energy saving of 62% would be achieved.