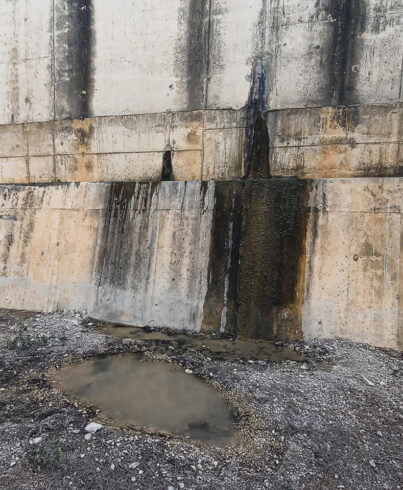 commitment by Benissa alert of cracks detected in one of the drinking water tanks located in the Collao. And he accuses the government team, PP and CIBE, for their neglect and ineffectiveness in the face of a situation that could cause a serious problem. Through social networks, the Valencians echo the concern of the residents of this area, who in 2001 already experienced the collapse of one of the walls of the warehouse. An event that caused a water avalanche that flooded houses and crops. At that time, four million liters of water were spilled.
From Compromís they point out that the detected leaks have been gushing water for days, weeks even, since puddles have generated in the area surrounding the affected wall of the reservoir and have stained the retaining wall black, as the Compromís spokesperson assures. in the town hall of Benissa, Mari Carme Ronda.
The coalition has transferred its complaint to the City Council so that the pertinent measures are taken and the problem is solved urgently. At the moment they are still awaiting a response, and they hope that it will not take much longer, taking into account that drinking water is a scarce commodity, of first necessity, and the loss of one more drop cannot be allowed, insists the Valencian mayor .
From Compromís they request that city council technicians evaluate the severity of the cracks detected in the retaining wall of the water tank, and thus avoid a possible blowout.