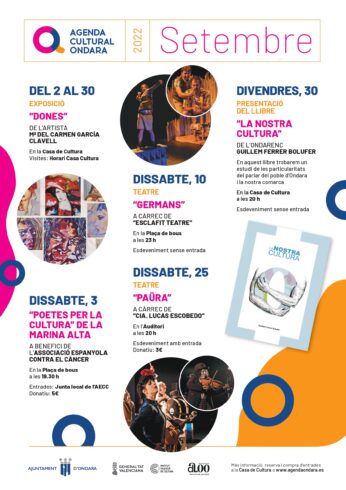 Programming
From September 2 to 30, House of Culture
EXHIBITION "Women" by the artist Mª de Carmen García Clavell
Visits: House Culture Hours
Saturday, September 3
POETRY "Poets for culture" of the Marina Alta
7:30 p.m. – Bullring
For the benefit of the Spanish Association Against Cancer
Donation: €5. Tickets: Local Board of Ondara of the AECC
Saturday, September 10
THEATER "Hermanos" by "Chasqueado Teatro"
11pm – Bullring
A comedy where two brothers meet to sell the house and fix the family inheritance, after the death of their father. During the time that they have not seen each other, many things have happened and each one has made his life. Even so, the two continue to be anchored in the time they shared when they were younger and also in the love-hate relationship they had with their father.
Sunday, September 25
THEATER CONCERT
8 pm – Auditorium
"Cía Lucas Escobedo" presents "Pavor": A humorous show for all audiences with live music. A theatrical concert that speaks of fear through the language of the clown, with laughter and poetry. A musical piece full of hilarity, by the artistic virtuosos of the Lucas Escobedo company.
Sale of tickets at the Casa de Cultura de Ondara or www.agendaondara.es
Tickets: €3
Friday, September 30
PRESENTATION OF THE BOOK "Our culture" by the ondarenc Guillem Ferrer Bolufer
8 pm – House of Culture
In this book we will find a study of the particularities of the speech of the town of Ondara and our region.