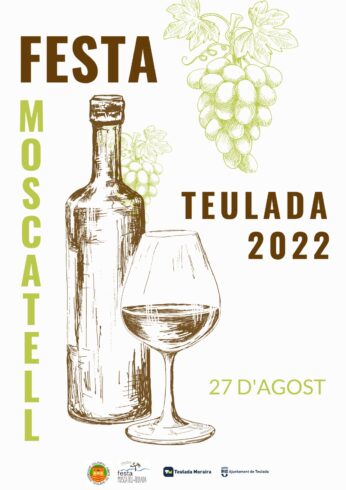 August is the month of the muscatel grape par excellence and, therefore, there is no better date on the calendar to celebrate the Muscat Festival. Until September 9, Teulada Moraira will be involved in an endless number of events and activities, organized by the Amics de Teulada Cultural Association and the Teulada City Council, in which you can enjoy our star product.
During August 24, 25 and 26, the Teulada Moraira Auditorium will host the VII Mostra de Curts de Moscatell for which 19 short films will compete for the event's awards. Many of the selected shorts are by Valencian directors such as 'Mindanao' by Borja Soler, 'La butada de la puta' by Mar Navarro and the works of Alicante-born Óscar Arjones ('La maldita primavera'), Álvaro G. Company and Meka Ribera ('Table for three'), and the renowned director Adán Aliaga ('La Gàbia'). The public will be able to vote for their favourites.
The week will end with the ride del muscatel on Saturday, August 27, with an entrance of cars accompanied by the Colla El Falçó and the participation of the Grup de Danses Font Santa. Next, there will be the treading of the wine, the muscatel grape contest and there will be, in charge of the Sant Vicent Ferrer 2023 Festival Commission, a 'Tapa and caña'.
At the end, the residents and visitors will be able to enjoy the reed and basket workshops, the exhibition of riuraus models and the popular dinner accompanied, later, by the musical festival.
Already in September, on Thursday 1, the book will be presented 'Ink nits. A singular fishing art' and the exhibition of images will be inaugurated. This presentation will go to the beat of the culinary exhibition 'Of the sea and mountains, the herbes mengívoles and the traditional conservation of the fish', by the gourmet Juan Salvador Gaya Sastre, and a unique wine tasting by the Associació Bancals de Vi and the Teulada Winery.
In addition, it should be remembered that the retrospective photographic exhibition 'Miratges del moscatell' will be available until September 23 at the Teulada Ecomuseographic Center (Almàssera), located at Avda. Santa Catalina, 30.
The programming will end the Festa del Moscatell with the great sample of wine tourism and gastronomy, Alere/Dolia, and the star guest, Quique Dacosta. It will take place on September 9 at the Teulada Moraira Auditorium.