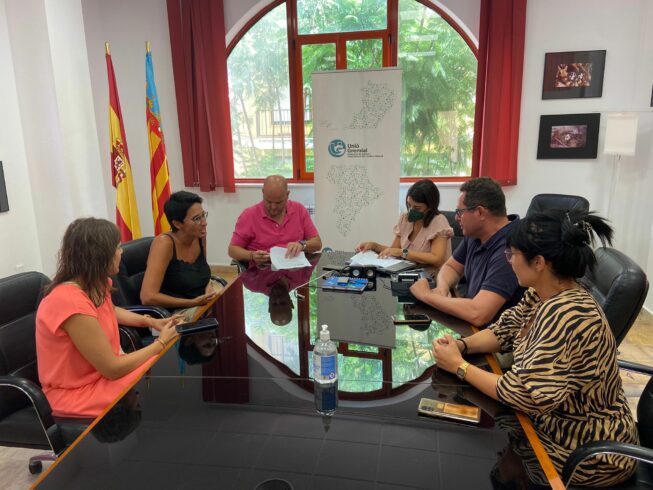 He Teulada Town Hall again bets on local businesses and signs a collaboration agreement with Unió Gremial to launch the consumption voucher of the Provincial Council of Alicante. For this initiative, the council has invested 16,000 euros in management and the Alicante Provincial Council 76,399 euros.
The signing took place at the Town Hall premises this morning by the mayor of Teulada Moraira, Raúl Llobell, and the president of the Unió Gremial, Juan Motilla. Also in attendance were Vanessa Cárdenas, vice president of the Unió Gremial; Rosana Caselles, Councilor for Commerce and SMEs; Verónica Martínez, Councilor for the Treasury; Almudena Rodríguez, Municipal Secretary; and Gemma García, Fomento technician.
In this way, the consumer bonds will be articulated by means of wallet cards to guarantee that any person over 18 years of age and registered in the locality can access them through online reservation (for all) or by telephone (only for persons over 65 years of age), saving thus the digital divide and guaranteeing that everyone can acquire their voucher.
Likewise, 1,500 cards will be put on sale for a value of 50 euros each, which will be converted into 100 euros thanks to a subsidy from the Diputación de Alicante. These cards can be spent at participating businesses (whatever you want) with no minimum spending. The objective of the Diputación with this initiative is to help mobilize the local economy of Teulada Moraira, reaching a direct impact of around €150,000.
"Given the success of the previous Bono Comercio campaigns in Teulada Moraira, we wanted to continue betting on this project, since it is an effective initiative and with very good results for the stimulation of the local business fabric. An extra aid to the businesses of the municipality that intends to keep its economy active throughout the year", has indicated the councilor Rosana Caselles.
For his part, the mayor of Teulada Moraira, Raúl Llobell, has assured that "apart from this edition financed by the Alicante Provincial Council, the issuance of new Bono Comercio campaigns with funds entirely from the Teulada City Council and aimed at the entire local business fabric. In addition, he stressed that "Teulada Moraira has been a pioneer in the Marina Alta with two campaigns of the Trade Bonus last year".