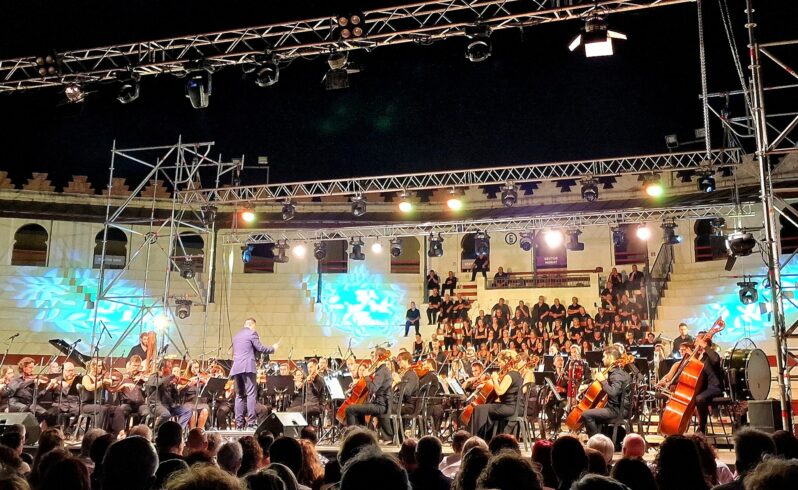 On Saturday August 20, more than 1,200 people enjoyed the spectacular Sonafilm, Film Music Festival with the concert dedicated to Ennio Morricone that the Universal Symphony Orchestra and the voices of the Coro de la Vicaría were in charge of interpreting the bullring of Ondara. An event organized by the Department of Culture of the City Council.
This new edition of the festival claimed the importance of soundtracks when it comes to transmitting the emotions of cinema. A concert with more than 100 artists on stage where, in addition, it was possible to enjoy in some of the pieces the stellar appearances of soloists such as the soprano Saray Garcia, the tenor Pascual Andreu, the oboist Edu Sala and the harmonica player Raquel Vega.
The Universal Symphony Orchestra, under the baton of its regular Director, José Martínez Colomina, offered the Tribute to Morricone, dedicated to the Italian master composer Ennio Morricone, to whom the Sonafilm of this year 2022 has been dedicated. In the great concert it has been possible to enjoy the best pieces of films as The dead had a price; The good, the ugly and the bad; nine hundred; Paradise Cinema; Once upon a Time in America; The Untouchables by Elliot Ness; either The mission. As an encore, and in homage to the recently deceased Vangelis, a Fire cars.
In the intermission of the concert, the work of the authorities of the towns that have made the festival possible (Ondara, Dénia and El Verger) was recognized. Admeás, the delivery was made as a reminder of the poster for this 4th edition by the Mayor of Ondara, José Ramiro, and the Councilors for Culture of the Sonafilm member municipalities; Raquel Mengual de Ondara, Raül García de la Reina de Dénia and Miguel Pou del Verger.
4th Edition of Sonafilm in Ondara, Dénia and El Verger
The 4th edition of Sonafilm had events throughout the past week, from August 17 to 21, both in Ondara, like in Dénia and El Verger . On August 17, the documentary "Ennio el Maestro" by Director Giuseppe Tornatore was offered at the Ondara House of Culture, with the participation of fifty people. In the audiovisual, prestigious filmmakers and directors praised the figure of the soul of mythical soundtracks by the collective imagination.
Among the witnesses bernardo bertolucci He highlighted that "he managed to combine prose with poetry"; while Clint Eastwood He recognized that "his music helped me stage." Roland Joffe He stressed, for his part, that "his soundtracks create a world that does not appear on the screen" and john williams stated that "when they gave him oscar honorific was like the Academy was apologizing for not doing it much sooner."