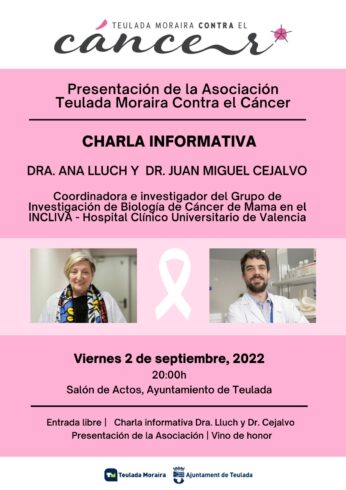 Next Friday, September 2, it will take place in the auditorium of the Teulada Town Hall the presentation of the Teulada Moraira Association Against Cancer. An act that will begin at 8:00 p.m. and will be accompanied by an informative talk and a wine of honor.
So the Informative talk will be attended by the Dr. Ana Lluch and the Dr Juan Miguel Cejalvo to delve into an issue that is increasingly worrying at a social level and, above all, among women, such as breast cancer.
In fact, Dr. Cejalvo, a researcher from the Breast Cancer Biology Research Group of the INCLIVA Health Research Institute of the Hospital Clínico de València and CIBERONC member researcher, has publicly assured that "breast cancer is increasing in young women . Screening could be lowered to 40 years".
For her part, Dr. Lluch is Emeritus Professor of Medicine at the University of Valencia and Coordinator of the Breast Cancer Biology Research Group-INCLIVA. In addition, she is head of the Hematology and Medical Oncology Service of the Hospital Clínico Universitario de Valencia, which develops cutting-edge lines of work in Spain, delving into the genetic and genomic bases of cancer in the search for new biological strategies.
The Councilor for Health, Susanne Katzgrau, has emphasized "the importance of research and prevention to overcome this disease, attending regular check-ups and participating in the preventive programs offered by the health system. It is essential, above all, to listen to medical professionals and to lead a healthy life, as this can help us to successfully combat many types of cancer".
The Teulada City Council encourages both residents and visitors to attend the presentation and informative talk to learn more about this disease and prevent any problem related to it.