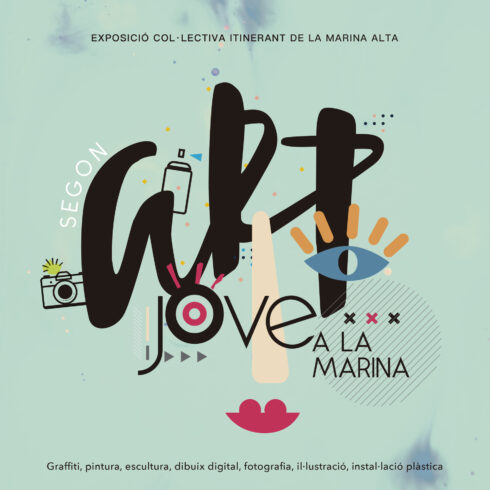 The Xarxa Jove of the Mancomunitat Cultural de la Marina Alta summons the bases to participate in the second edition of the traveling group exhibition Art Jove to the Navy.
After the successful participation of the last edition, the Xarxa Jove of the macma convenes this edition that is aimed at young people between the ages of 16 and 30, residents of the Marina Alta. The exhibition will take place during 2023 in different municipalities of the region and has two modalities: exhibition in interior rooms or urban intervention.
The first phase of this artistic project began last June, based on summoning all the municipalities of the Marina Alta to participate in being a welcoming town by 2023, being the following: Gata de Gorgos, Pego, Benissa, Dénia, Teulada Moraira, Ondara, Pedreguer and Xàbia.
We are currently in the execution of the second phase of this ambitious regional project, based on the research of young artists from the region. Interested people can participate in the following modalities: graffiti, painting, sculpture, digital drawing, photography, illustration and plastic installation.
Registration is until October 31, 2022 and bases They are posted at www.macma.org/joventut. For more information, you can contact the different Youth Information Centers of Calp, Pedreguer, Benissa, Teulada Moraira, Dénia, Jávea, Pego, Ondara and Gata de Gorgos.