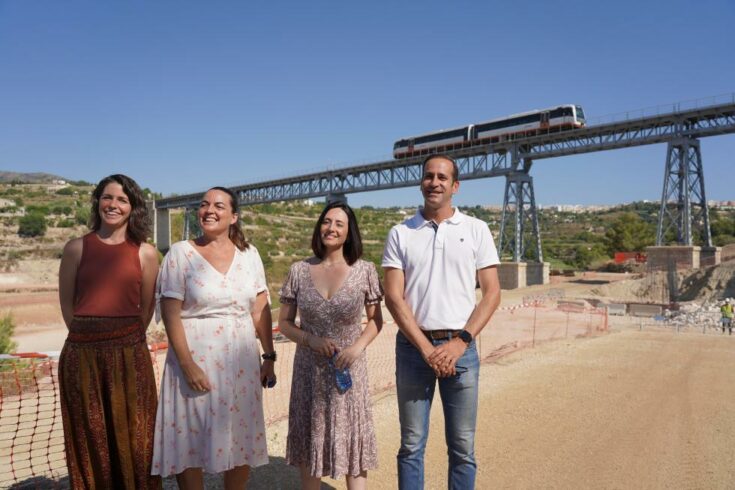 The Generalitat Valenciana has already begun works on Benissa new Quisi viaduct of the line 9 Benidorm-Dénia of the TRAM d'Alacant, an action that is considered essential to be able to conclude the modernization works of this line in which the Ministry of Territorial Policy, Public Works and Mobility is investing more than 160 million euros.
The Minister Rebeca Torró He visited the works this morning and stressed that progress continues in the modernization of this railway line that requires intervention on three bridges. One of them, the Quisi viaduct. Rebeca Torró has recalled that the budget for the works on the Quisi viaduct amounts to almost 10 million euros, 9.8 million, and the works are expected to be completed in July of next year.
Visual impact
The Regional Minister was accompanied on her visit to the Quisi by the managing director of Ferrocarrils of the Generalitat Valenciana, Anaïs Menguzzato, and the mayor of Benissa, Arturo Poquet, who have visited the first earthmoving and foundation works.
The municipality of Benissa has highlighted the importance of these works, since they will help the connectivity of the Marina Alta. But in addition, Poquet has taken advantage of the Minister's visit to show the municipality's concern for the visual and landscape impact that this new concrete infrastructure will generate in an enclave of special heritage value for Benissa.
From the Ministry it is stressed that the pace of the works will allow the commitment of the President of the Generalitat to be met and the modernization of this railway line will be a reality between the end and the beginning of the year, regardless of whether the works on the bridges continue.
Greenways
The Ministry's plans also include the reuse of the tracks that remain free of railway traffic, in this sense the Minister has commented that "the power to take advantage of the railway infrastructures that will remain vacant once the works are finished is being studied and reconvert them on greenways for the enjoyment of all citizens".
The current Quisi viaduct was built between 1913 and 1915, as part of the line linking Alicante and Dénia. The rehabilitation works carried out by FGV in this section have allowed it to remain open to the circulation of current diesel trains. However, it has been necessary to propose the construction of a newly built variant that allows the passage of the new dual trains (electric-diesel) incorporated by FGV as part of the modernization plan for this line.