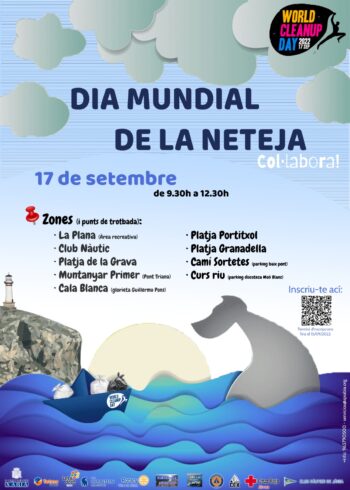 Xàbia commemorates in September the World Cleanup Day making a call to the civic movement for all those who want to collaborate actively cleaning the dirt from the beaches, parks, forests and rivers. The main objective of this action is that all the garbage generated does not end up in the oceans, where more than 80% of our waste usually ends up.
In Xàbia, a day has been planned on Saturday, September 17, promoted by the City Council and with the collaboration of Tetma Simetría, Let's do it! Spain, The ISBJORN Collective, Rotary Club of Jávea, Xàbia net among all, Jávea we want you clean, Xàbia Civil Protection, CEX, Xàbia Red Creu and Jávea Yacht Club.
The meeting points of the municipality will be the La Plana Recreational Area; Yacht Club; gravel beach; first Muntanyar; Cala Blanca (Guillermo Pons roundabout); Portitxol beach; Granadella beach; Camí Sortetes (next to the bridge) and the course of the river (Molí nightclub car park). The activity will take place from 9:30 a.m. to 12:30 p.m.
The inscriptions They are open until September 15. For more information, you can call 965790500 or send an email to servicios@ajxabia.org