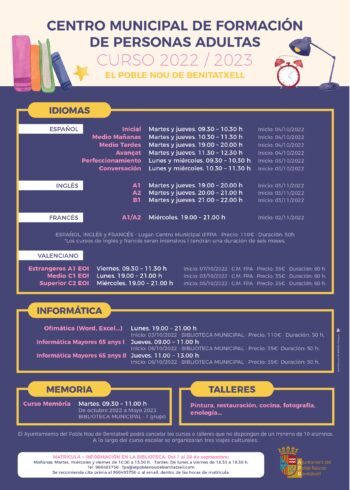 He Municipal Training Center for Adults of El Poble Nou de Benitatxell opens the registration period for its courses and workshops. With a powerful and varied offer, this year it presents a novelty: painting, restoration, cooking, photography or oenology workshops, according to demand.
This year, since it is a pilot test, the workshops will be carried out depending on the people interested and they will be carried out only if there are a minimum of 10 people interested in each modality.
As usual, languages are one of the pillars of the training offer. There are Spanish courses (initial, intermediate, advanced, improvement and conversation), Valencian (foreigners A1, intermediate C1 and superior C2), English (A1, A2 and B1) and French (A1 and A2). Those in Spanish, English and French are priced at 110 euros and last 50 hours, while those in Valencian cost 35 euros and last 60 hours.
Other workshops offered are computer science, which includes office automation (€110 and 50h) and two groups for people over 65 (€35 and 50h), and memory, aimed at older people to exercise memory in life daily and strengthen attention and memory capacity. In addition, the school organizes three cultural trips throughout the year for all its students.
Registration is open until September 28 and can be done at the Library Tuesday, Wednesday and Friday from 10:00 a.m. to 1:30 p.m., or Monday to Friday, from 4:30 p.m. to 6:30 p.m. More information can be requested by going to the Library, by calling 96 649 37 56 or by e-mailing fpa@elpoblenoudebenitatxell.com.