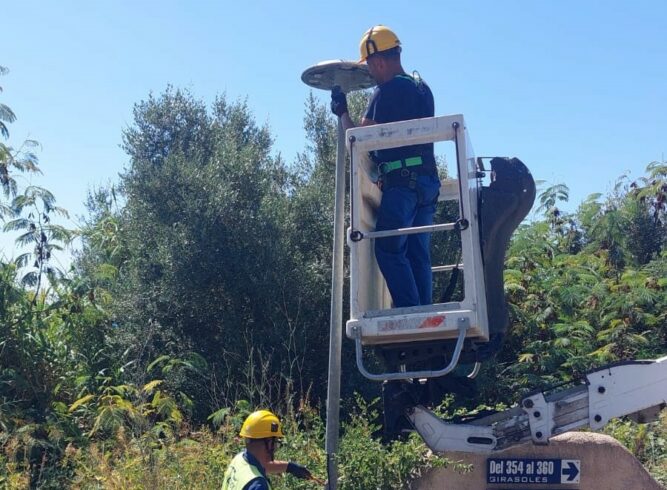 He Poble Nou de Benitatxell is one step less energy efficiency, one of the Sustainable Development Goals (SDG) of the 2030 Agenda. The Institute for Energy Diversification and Saving (IDAE) has granted the City Council a grant of 501,465.69 euros for the replacement of 897 conventional luminaires with others with LED technology, with light level regulation and time control.
This investment aid for unique local clean energy projects in municipalities with a demographic challenge (DUS 5000 PROGRAM) is part of the Regeneration and Demographic Challenge Program of the Recovery, Transformation and Resilience Plan. Specifically, in measure number 4 of the fight against light pollution, efficient and intelligent lighting, Smart Rural and ICT.
In total, 589,959.64 euros will be invested, of which almost 85% will be financed by the IDAE. The rest, 88,493.95 euros, must be provided by the City Council. This project will renew about 85% of the total number of public luminaires for a new, more modern and efficient system, thus approaching the objective set for the 100% that is expected to be obtained in future calls.
The action includes not only the replacement of lighting fixtures with more efficient ones, but also those that reduce light pollution. Also the incorporation of remote management systems and the adequacy of the control panels to comply with current regulations. Action will be taken on 26 of the 37 control panels that the municipality has and will replace 897 luminaires with LED technology.
With the execution of this project, it is estimated that an energy saving of 62% will be achieved with respect to the current cost, thus avoiding jumps in the light boxes due to energy overload.
This is the second action that will be carried out in the municipality to replace the old conventional streetlights with led technology luminaires. A total of 355 streetlights have recently been replaced with an investment of 149,907 euros between Ivace and the Consistory to 50% (each entity has contributed 74,953.50 euros).
And it is that since 2020 it is a basic service that the government team has proposed to improve. That year, an energy audit was carried out to find out the state of the entire municipal electrical installation and thus qualify for these aids, which in total add up to more than 575,000 euros in subsidies for changing lighting and energy savings.
"In less than four years we have managed to bring order to an old and very deteriorated infrastructure, which had been one of the main reasons for the complaints we received. Now it will be renewed almost in a 85%. And all this with a large part of external financing via subsidies, where a great fund work has been done to obtain them by the different municipal departments involved", detailed the mayor, Miguel Ángel García.