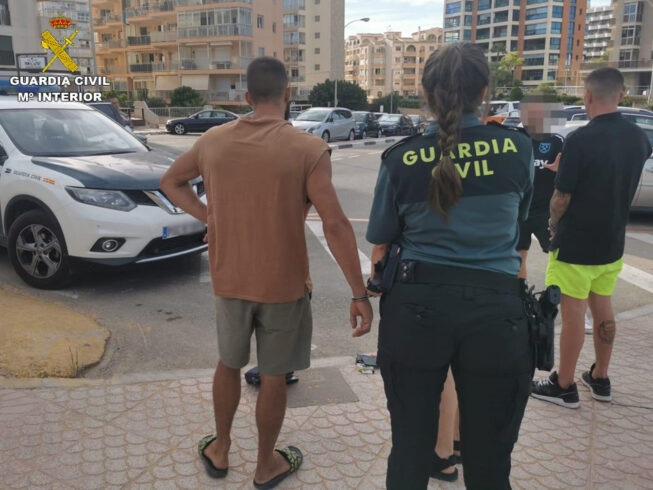 The Civil Guard has dismantled in Calp a criminal group of fake light reviewers who robbed older people when they visited their homes. The gang, from Fuenlabrada (Madrid), had temporarily settled in a squat in the city of El Peñón with the sole purpose, according to police sources, of committing robberies in the province of Alicante.
The members of the group have been charged with the crimes of heist, theft, reception, fraud and belonging to a criminal organization.
The band was made up of five men, of Spanish nationality, aged between 28 and 30 years. They are considered perpetrators of more than a dozen crimes of robbery and theft in homes in the towns of the region such as Calp, Benissa and, Teulada. And also in Bussot, La Vila, El Campello and Alcorcón.
At the time of the arrests, the Civil Guard seized 2,000 euros in cash, false master keys and magnetic keys, various tools and a bank card that had been stolen from one of the victims. In addition, it has been possible to seize the motor vehicle that was used by the gang to commit the crimes.
Despite the arrest of all the members of the gang, the Civil Guard does not conclude the investigations, so it is not ruled out that new victims may appear.
The arrested were brought before the judicial authority. The Guard and Instruction Court of Denia has decreed the release of all detainees with the prohibition to leave the national territory, as well as the periodic presentation in the Courts.
Safety Tips
The Civil Guard recalls that through the Major Security Plan and through the informative talks that it gives throughout the Spanish geography, it aims to prevent and improve the safety of the elderly, since this group of people is within the group considered especially vulnerable. In addition, it is advisable not to pay attention to telephone calls where they offer you offers or bargains, and in any case, go to the physical offices for any consultation or improvement in supplies.