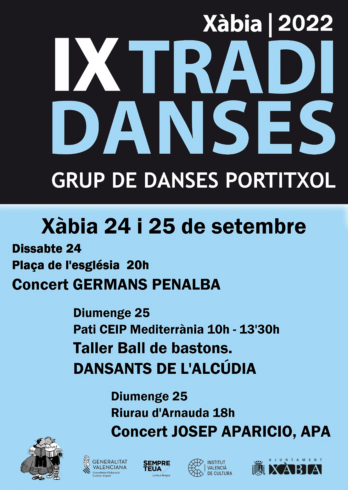 He Traditional Festival, organized by the Portitxol Group, celebrates its ninth edition this weekend. Under the motto "cantant a les arrels", this year the meeting focuses on Valencian "cantaors" who are looking for new sounds to the traditional songs of our land.
As a novelty, the poster for this ninth edition of the Tradidanses has two concerts: that of Germans Penalba this Saturday 24, at 8:00 p.m. in Plaça de l'Església, and the Josep Aparicio "Apa" on Sunday 25, at 6:00 p.m. in the Riurau d'Arnauda.
Despite their youth, the Penalba brothers -Jonatan and Christian- are already veterans in the world of music. In recent years, they have released three separate albums (De soca-rel and Reversions the first; Canvis, the second) that have placed them in a prominent position on the Valencian music scene. Now they present this new joint show, accompanied by a deluxe instrumental line-up, in which they combine their particular styles and voice with a traditional Valencian repertoire that takes on new life on the lips of these two great singers.
On Sunday, at the Riurau d'Arnauda, it will be the turn of Josep Aparicio "Apa". Godella's has received unanimous praise from fellow professionals, critics and the public in recognizing his quality as a cantaor. He has several albums, Cants i cants, Flamencianes, Cançons a banda and Sinèrgies, in which he seeks new paths for traditional Valencian music, exploring other sounds and uniting different cultures without losing the north or the roots.
For Tradidanses, Aparicio has prepared a didactic concert, a special format in which he will combine his most traditional repertoire with explanations of the repertoire as the guiding thread of the concert.
In addition to the concerts, the Tradidanses will have its already usual didactic part, with which the Grup Portitxol tries to spread the variety of traditional music and dances that exist in our territory. On this occasion the workshop (Sunday 25, at 10am at CEIP Mediterrania) will focus on the traditional "Ball de batons" from the town of l'Alcúdia (Ribera Alta) and will be taught by Dansants de l'Alcúdia.