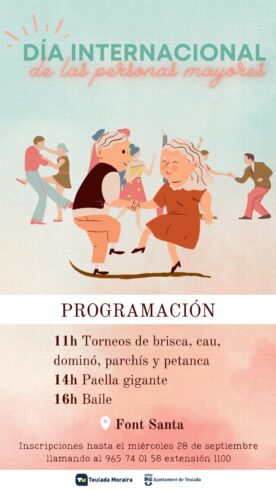 From the council of the third age, delegated to Verónica Martínez, has organized a series of activities on the occasion of the celebration of the International Day of Older Persons.
In this way, next Saturday, October 1, starting at 11:00 a.m. there will be briscola, cau, dominoes, ludo and petanque tournaments. Next, around 2:00 p.m. there will be a popular giant paella and, at the end, everyone will dance! It is important to note that for petanque tournaments, players must bring their own game material.
The event is open to all audiences. Registration is free and you must confirm your attendance by calling 96 574 01 58, extension 1100. The deadline to sign up is Wednesday, September 28. The data they must provide are: name and surname of each attendee, contact telephone number and, in case of being retired, the member number.
The councilor for the area, Verónica Martínez, has encouraged all the residents of Teulada Moraira to "participate in a meeting in which we commemorate our elders in the best way we know how: creating beautiful memories together".