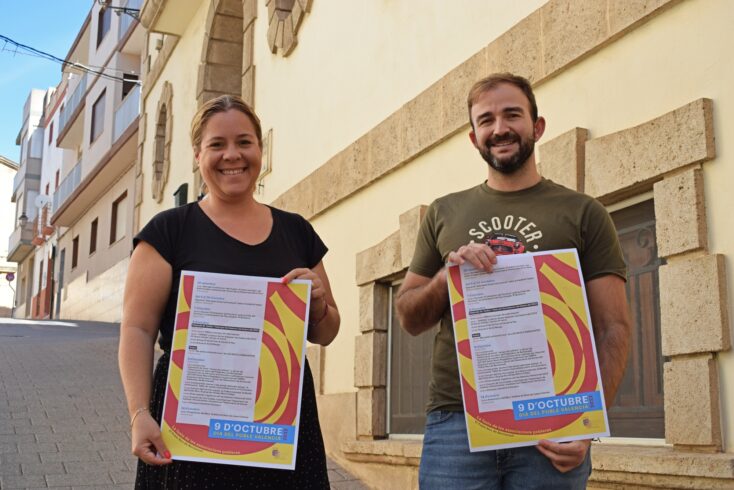 As each October 9, day of the Valencian men and women, the streets of El Poble Nou de Benitatxell they are filled with associationism and brotherhood. This year, the Departments of Culture and Festivals, together with the different local associations, have prepared a programming varied.
Events start this Friday September 30th with the talk-conference 'Joan Fuster, our writer', which will be given by Isidre Crespo and will be presented by Vicent Serra, from 'Esmorzars de la Terra'. It will be at 7:30 p.m. at the Social Center.
The big week comes from October 6. That day the exhibition 'Sols espart és part de la solució' will be inaugurated in the Library, which revolves around the work of esparto grass in the Marina Alta. He Friday the 7th The program will continue with the concert 'El dolçainer del Portitxol', with the Colla del Portitxol de Xàbia and the special collaboration of Pep Gimeno 'Botifarra', at 8:00 p.m. on La Pau street.
He Saturday 8, the protagonists will be the festive men and women of 2023, who have prepared an afternoon session with two djs Fran and Mengu starting at 7:00 p.m. on La Pau street. There will be a bar and food service and workshops and games for the little ones. At night, at 10:00 p.m. at the Social Center, the theater 'You're driving me crazy', by Los seven comedians, will be offered.
The most important day October 9, is dedicated to the poblera associations. Starting at 11:00 a.m. in La Pau street, the exhibitions 'Temps militars', from the Associació de Veïns; of posters of October 9 made by the students of the CEIP Santa Maria Magdalena and organized by the AMPA, and of bolillos, in charge of the Women's Association. There will also be activities for boys and girls, such as the storyteller 'Jaume I i les seues valeroses dames' or the sheet metal and crafts workshop.
Then, starting at 12:30 p.m., there will be concerts by music and dance associations: the Parish Choir, the Colla La Llebetjà, the Banda del Poble Nou and the Grup de Danses Morro Falquí. Each one will perform a small performance separately and also, this year, for the first time, they will offer a joint piece that the four associations have prepared with great enthusiasm.
Next, the festeros and festeras of 2023 will offer popular food. The day will end with a concert by Toni Català organized by the Retirees and Pensioners Association, a chocolate party by the Women's Association and a children's gymkhana at 5:00 p.m. He October 14th The program will close with the presentation of the book 'Soldats de lleva', by Josep Colomer from the village. It will be at 7:30 p.m. at the Social Center.