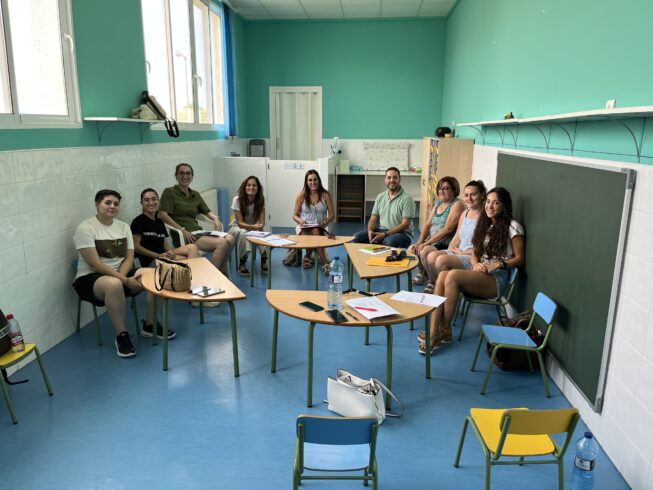 On September 6, the new school year began at the Joaquina Gavilà de Ondara Municipal Children's School, which is managed by the municipal company WHITHOUT MOTHER. This course 2022/23, the school has a total of 73 students; 26 from 1-2 years and 47 from 2-3 years.
Prior to the start of the course for the students, the Mayor of Ondara, José Ramiro, and the Department of Education, Mar Chesa, held a meeting with the faculty and expressed their satisfaction with the good progress of the municipal nursery school as a result of the improvements and changes introduced in recent years, which have led to a high degree of satisfaction among the families that use this service, as well as an improvement in the work environment of the workers at this municipal early childhood education center.
It must be remembered that one of the reasons for the improvement of the service came with the application, since 2018, of the new regulations of the Ondara Municipal Children's School, which made it possible to adapt the service provided to the needs of the user families. These regulations establish the framework of coexistence and reference for the proper functioning of the center, also favoring that the faculty have more organizational and pedagogical capacity.
In addition, since the application of the regulation, the Municipal Children's School follows the annually approved work calendar (and not the school calendar, thus facilitating family reconciliation). It is divided into two periods. The ordinary period, which begins within the first 6 days of September and until June 30, and the summer period, between July 1 and August 31. The maximum service hours are from 8:00 a.m. to 6:00 p.m.
In the labor field, the application of the regulation has meant the hiring of personnel during the 12 months of the year (instead of 10 months as before, when in summer the same workers were not available). In this way, the current workers who were as discontinuous permanent workers have become permanent to guarantee the best service and compare it to the rest of SINMA workers.
On the other hand, it should be mentioned that the Escoleta has also undergone major structural improvements in the facilities in recent years, such as the expansion of the courtyard. All the necessary corrective improvements have also been made in the facilities, such as specific pest treatments during the course, complemented by the installation of mosquito nets in all classrooms; the expansion and renovation of furniture and utensils (dining carts, tables, thunder...); and other improvements in the facilities (security doors, fences, finishes, etc.).