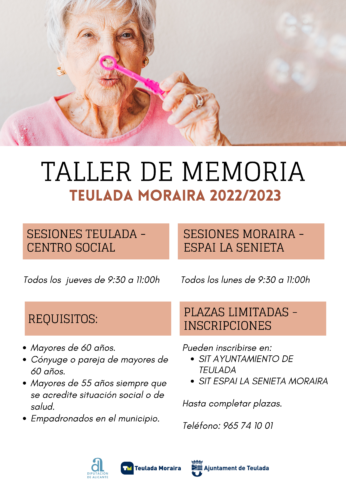 from the department of Social services of the Teulada Town Hall, the registration period is open, until full places, for the Memory Workshop 2022/2023.
This workshop, subsidized in part by the Provincial Council of Alicante, is aimed at memory reinforcement activities for adults over 55 years of age. The sessions will take place every Monday at Espai la Senieta in Moraira, from 9:30 a.m. to 11:00 a.m. and every Thursday at the Teulada Social Center, from 9:30 a.m. to 11:00 a.m.
The registration requirements are the following:
– Over 60 years.
– Spouse or partner over 60 years of age.
– Over 55 years of age as long as the social or health situation is accredited.
– Registered in the municipality.
They can request their registration through the SIT of the Teulada City Council, the SIT of Espai La Senieta in Moraira or by calling 965 74 10 01.
The consistory encourages those interested to participate in this type of activity, since memory is a priority in our health care.
The Provincial Council of Alicante awards three subsidies to Social Services 
The Department of Social Services of the Teulada City Council receives three subsidies from the Provincial Council of Alicante that amount to a total value of 135,128.40 euros.
The first grant is oriented to the Social promotion and acquisition of equipment aimed at vulnerable groups. The amount granted is 3,907.40 euros and will be used to cover part of the Memory Workshop for the Third Age.
Secondly, the nominative subsidy has been obtained, for a value of 77,189.00 euros, to Social benefits to deal with the extraordinary situation caused by Covid-19.
And, thirdly, the subsidy has been awarded for coping with extraordinary situations: energy poverty and hosting refugees from Ukraine, with an amount of 54,032.00 euros.