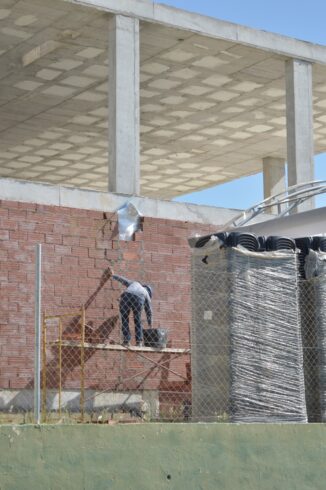 The company awarded the works of the Sant Vicent Ferrer school restarts the works for the 'Creation of a 12-unit classroom for the 1st and 2nd cycle of the infant stage', a project included in the program EDIFYING of the Valencian Generalitat.
It should be remembered that these works had been temporarily suspended due to "the impossibility of continuing due to the latest supply crisis due to the invasion of Ukraine", as the company reported in March.
Rosana Caselles, Councilor for Education of the Teulada City Council: "Carrying out this project means meeting a historical demand of the municipality and a great improvement in the educational conditions for the boys and girls of Teulada Moraira. An essential initiative for the little ones in our town".
For his part, the mayor of Teulada Moraira, Raúl Llobell, has indicated that "after the inconveniences arising from the current situation of price increases and deadlines for the supply of materials -reasons beyond the control of the City Council- we suffered a work stoppage. Unfortunately all public works are suffering from this same situation. However, thanks to the willingness of both parties, the interest and the need for the project, it has been possible to solve the problems that temporarily paralyzed the works and we can say that they are already restarted, hoping that soon our young people will be able to enjoy the new classroom" .
The works of the lecture hall were budgeted in bidding for a value of €2,355,588 VAT included, with a maintenance period of 5 years and an additional guarantee period of 50 years in accordance with the Specific Administrative Clauses, Basic and Execution Project and the offer presented.