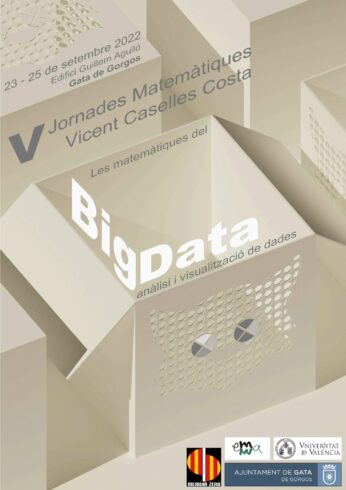 From September 23 to 25, mathematics and science to Cat with the 5th edition of the Vicent Caselles Costa Mathematics Conference, organized by the Vicent Caselles Commission with the support of the Gata de Gorgos City Council, the University of Valencia, the Meridiano Cero association, the Marina Alta School of Mathematics (EMMA) and CEFIRE.
The conferences, which will have as theme The Mathematics of Big Data: Data Analysis and Visualization, will be held over the weekend at the Guillem Agulló Multipurpose Building. The activities, aimed at a general and non-specialist public, will include conferences, workshops and also a round table with scientists data from various companies.
The speakers will be Valery Naranjo, director of the Computer Vision and Behavior Laboratory (CVBLab) of the Polytechnic University of Valencia, Emilio Soria, director of the Intelligent Data Analysis Laboratory (IDAL) and of the Data Science Master of the University of Valencia, and Verónica Sanz, researcher at the Institute of Corpuscular Physics of the University of Valencia-CSIC and specialist in the application of artificial intelligence in particle physics.
The conferences are plenary and public but to participate in the workshops you must register through the Facebook profile of the conference. As in other years, secondary school teachers will be able to register through the page of the CEFIRE.