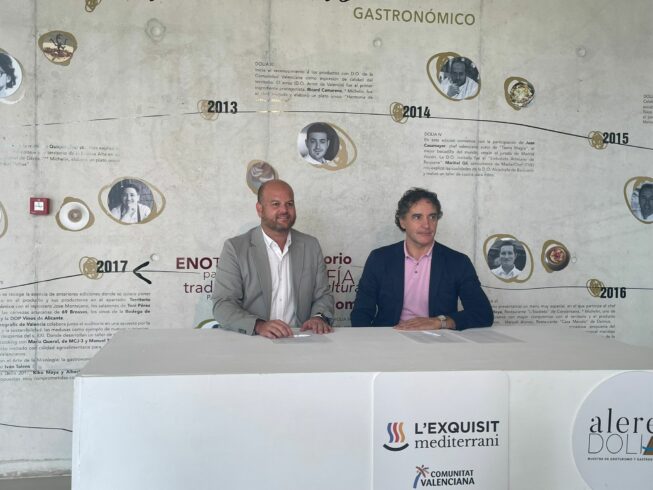 Teulada Moraira sign the agreement The exquisite Mediterranean with two great representatives of local gastronomy: the Auditorium Teulada Moraira and the Moraira Yacht Club. This project is a tourism brand promoted by the Generalitat Valenciana, which aims to contribute to the promotion and dissemination of Valencian gastronomy.
For this, both the sample hurt/hurt of the Auditorium as the Gourmet Race of the Club Náutico, are two benchmark events in local gastronomic culture, which value the territory, the landscape and typical local products and those of the Valencian Community.
The mayor of Teulada Moraira and president of the Fundación Auditori Teulada Moraira, Raúl Llobell, has committed to this agreement to "continue betting on local gastronomy through different routes, traveling sea and land to publicize one of the jewels of our intangible heritage.
In summary, the agreement states the following commitments:
In the development of its functions, encourage and promote gastronomic tourism as an element of tourist positioning and diversification, thus promoting the economic sectors that make up Mediterranean gastronomy.
Collaborate together with Turismo CV in projects to promote gastronomy and tourism in the Valencian Community in order to increase the impact and supply through institutional coordination and cooperation.
The Xarxa GastroTurística of the Valencian Community, promoted by Turismo CV, has the mission of contributing to such purposes to facilitate said collaboration between public and private agents in the sector, connect initiatives and preserve and develop its own gastronomy with parameters of authenticity, innovation and sustainability as a tourist resource. All this linked to the landscape, culture and economy, reinforcing the identifying Mediterranean attributes and promoting the image of excellence of the product through the brand. The exquisite Mediterranean.
Mutual collaboration to contribute to the cohesion of gastronomic actions that are carried out throughout the territory of the Valencian Community and in all areas of action, as well as to disseminate the brand The exquisite Mediterranean.
Some guarantees of said coordination are: participation in forums for consensus on strategies; implement development actions Xarxa GastroTurística of the Valencian Community; exchange information, results, actions, etc.; and protect the value of the gastronomy of the Valencian Community through The exquisite Mediterranean.
All the aforementioned actions will be carried out by means of each of the entities, with no financial obligation except those that, for this purpose, are formalized through collaboration agreements, aid programs or any other legal instrument that is determined, in accordance with the procedures, legislation and applicable regulations.