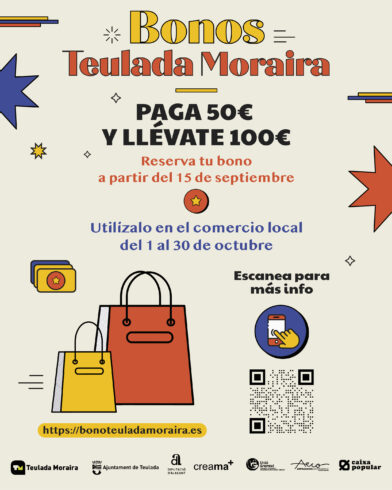 The delivery of promotional campaign cards for the local trade in Teulada Moraira through consumer bonds will take place from September 19 to 23 in Teulada and from 26 to 30 in Moraira. Subsequently, from October 1 to 30, users will be able to spend the cards in participating businesses.
To remedy the significant digital gap that makes it difficult for the elderly to carry out some electronic procedures, they have been enabled on September 13 and 14, to make an appointment by calling 613 331 652. This service is exclusively for people over 65 years of age. .
The rest of those registered in the municipality under 65 years of age, from September 15 and until the 1,500 available cards are exhausted, will be able to make the procedures to request an appointment through the web portal www.bonoteuladamoraira.es or by contacting the office of Consumption Bonds calling 613 33 17 19.
Thus, users will be able to shop at any of the more than 65 businesses that participate in this initiative, whose main objective is to stimulate commercial activity in the municipality and for which 76,399 euros have been invested.
Among the affiliated businesses you can find anything from a bicycle shop, mobile telephony, clothing stores and hairdressers to basic necessities, such as butchers and bakeries. You can get to know the businesses participating in the Web.
The official start of the delivery of cards will take place on Monday 19, at the premises of CREAMA Teulada Moraira.
This campaign to promote consumption in local businesses is being carried out thanks to the joint work between the Teulada City Council and the Alicante Provincial Council, with the technical support of the Unió Gremial and CREAMA Teulada Moraira.