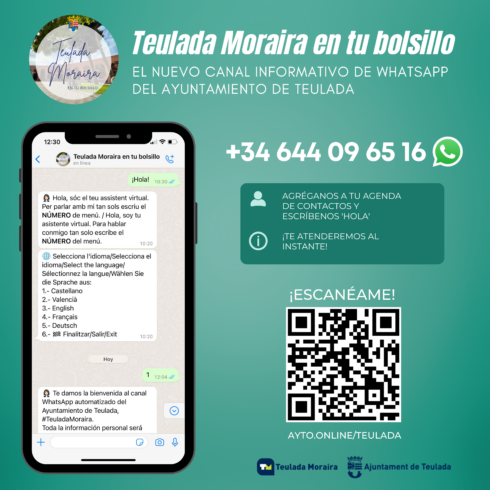 He Teulada Town Hall presents the new communication and citizen service platform Teulada Moraira in your pocket, a whatsapp channel that allows direct communication between citizens and the consistory to offer a closer and more efficient service.
With a simple WhatsApp message, the user can carry out various municipal procedures such as reporting complaints and incidents, making queries or suggestions, contacting the mayor, accessing electronic procedures or receiving important notices and communications, among others.
The aim of this tool is to encourage participation and reach an optimal level in the resolution of complaints and incidents.
In addition, each user can select the language in which they want
be attended: Spanish, Valencian, English, German or French. In the same way, taking advantage of the bidirectionality provided by WhatsApp, the council will be able to send communications, alerts, news, events and information of interest to the citizen.
How does it work
Starting to use this channel is as simple as adding the telephone number +34 644 09 65 16 to the contact list, opening a conversation and writing "Hello". From that moment on, the virtual assistant will automatically respond to the message and it will only be necessary to follow its instructions.
1. First you must choose the language in which the user wants to communicate (Spanish, Valencian, English, German or French) by pressing 1, 2, 3, 4 or 5.
2. Next, you must accept the processing of personal data, according to the data protection regulations to save the contact in the municipal database.
3. Then, also numerically, the main menu will be displayed with all the available options: 1. Municipal information, 2. Contact your mayor, 3. Notice of incident, 4. Doubts and suggestions, 5. Local Police, 6 Settings and 7. Finish.
The platform will allow you to send messages, photos and location, functions that facilitate the identification work to the corresponding department of the City Council.
The mayor of Teulada Moraira, Raúl Llobell, has presented this new service as "an open, transparent communication tool that allows citizens and administration to come closer, thus improving the operation of services, making them more personalized and of quality".