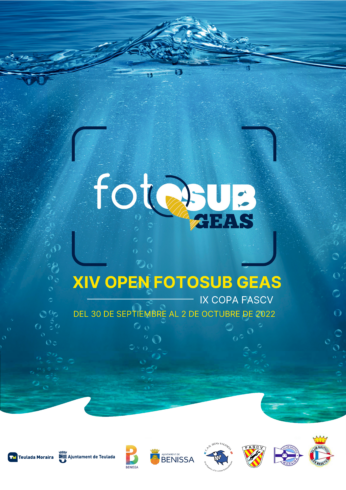 This Friday, September 30, arrives at Teulada Moraira the prestigious contest of underwater photography with the collaboration of the municipalities of Teulada and Benissa. The event will bring together photographers who come from different places throughout the national territory.
Throughout this week, the participants will have a first contact with our seabed, testing their equipment before the competition, looking for a beautiful underwater photo of Teulada Moraira and Benissa that will ensure them to be among the first places.
On Friday the 30th, from 7:00 p.m., the presentation of this will take place at L'Espai la Senieta de Moraira XIV OPEN GEAS 2022 with the assistance of the participants, where they will receive the latest indications from the organization together with the representatives of the Teulada and Benissa Town Halls.
On Saturday morning the XIV OPEN FOTOSUB GEAS will begin at the Club Náutico de Moraira facilities, after the safety meeting and receiving all the indications from the jury, the boats will take these underwater photographers to their immersion points to get the underwater postcard that many of them already have in their heads, with all the security measures.
On Sunday the 2nd, starting at 12:00 noon, there will be a projection of all the images presented by the participants, a video with everything that happened the day before and the awards ceremony at L'Espai Cultural de Les Cases de Batle in Benissa. .
During this act, the Federation of Underwater Activities of the Valencian Community VIII COPA FASCV will also award the best federated underwater photographers of our community in the Open.