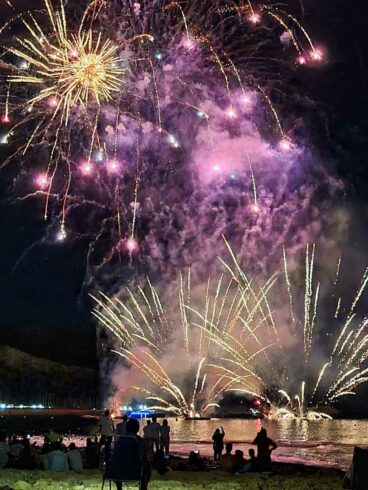 The festivities in honor of the Mare de Déu de Loreto They will have an extension this Friday and they will once again illuminate the bay with one of their most emblematic events: the firewater castle.
On the night of September 8, a computer problem prevented the show contracted as the end of the party from being shot. More than half of the gunpowder remained in the casings and what could be seen did not follow the rhythm or the order in which it had been designed.
From the outset, the pyrotechnic company showed its willingness to compensate the municipality and, after ensuring the necessary infrastructure, it has been agreed to shoot it again in its entirety this Friday -September 16-.
It will be at 11:30 p.m. from the floating aquatic platforms installed next to the fishing port and can be enjoyed from the entire northern area of the Xàbia bay.
The City Council wanted to highlight the seriousness of the Ricardo Caballer company, one of the best pyrotechnics in the Region and which has international prestige.
Since the castle of Loreto is fired from floating platforms (it was done from the breakwater until the Forest Law established that fireworks could not be launched within 500 meters of a forest area), its preparation is very complex and depends on many factors, especially the state of the sea. In this sense, it has been contrasted with the Fishing Association that the state of the sea forecast for Friday is favourable.
Precisely this technical complexity and the meteorological instability that usually accompanies the dates of the Loreto festivities are some of the reasons that make the City Council ensure that the show is in charge of serious companies and that they respond if there is any change in plans or problem. .
This year the fireworks company Ricardo Caballer SA was contracted for artistic exclusivity for the shows (mascletaes and fireworks displays) in Sant Joan and Loreto for a total of 100,845 euros. In both parties the budget has increased compared to the last year they were held, 2019, given the special circumstances of this edition; Some Fogueres with three fifths and the 125th anniversary of the Loreto festivities (in 2019 it cost 37,667 51 euros and this year 43,010 euros were allocated.
The castle of Fogueres also has a particularity that makes it more expensive; its musical facet means that, in addition to the purely pyrotechnic part, a significant amount is incorporated to rent the sound equipment necessary to play music over long distances. This year it has cost 57,435 euros.