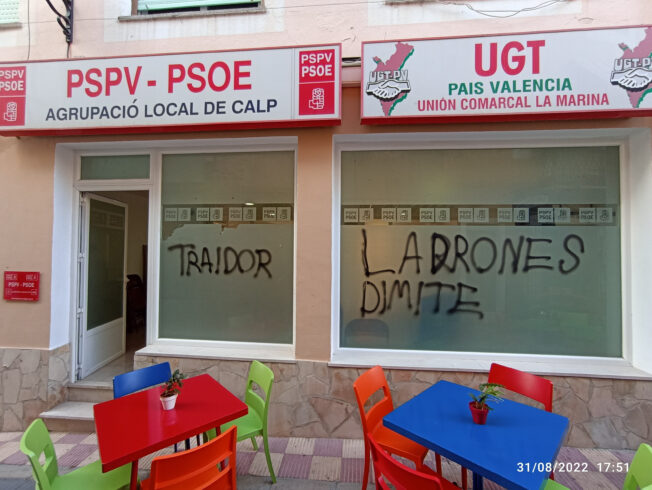 dependencies socialists, located in the central Calle Mayor de Calp, have been subject to acts of vandalism according to reports from the local socialite group itself. It happened on the night of August 30-31. Yesterday afternoon, when socialist militants went to the headquarters to hold a meeting, they found themselves with an unpleasant surprise. On the façade of the headquarters the words "traitor", "thief" and "resign" appeared, scribbled with a kind of black spray on the front windows of the premises.
He Secretary General of the Calpino Socialist Party, Guillermo Sendra, relates these events to the photographic complaint contest called by the PSPV-PSOE this summer, which ends tomorrow, Friday September 2, and has managed to gather a large number of snapshots revealing actions against the environment in the town of Calpina.
From the PSOE They explain that far from having the immediate participation of the municipal cleaning services, as happened in its day with the graffiti at the PP headquarters, the Socialists comment, the Socialist Party has relied on the help of residents to remove all the inscriptions that disfigured this point of the old town of Calp.
To the authors
Through a statement, the PSOE has denounced and condemned this type of aggression, whose intention, they indicate, is to intimidate or generate animosity against groups. The General Secretary of the Calpino Socialist Party, Guillermo Sendra, has remarked that freedom of expression has its channels, and these are not. In politics, not everything goes, insists Sendra.