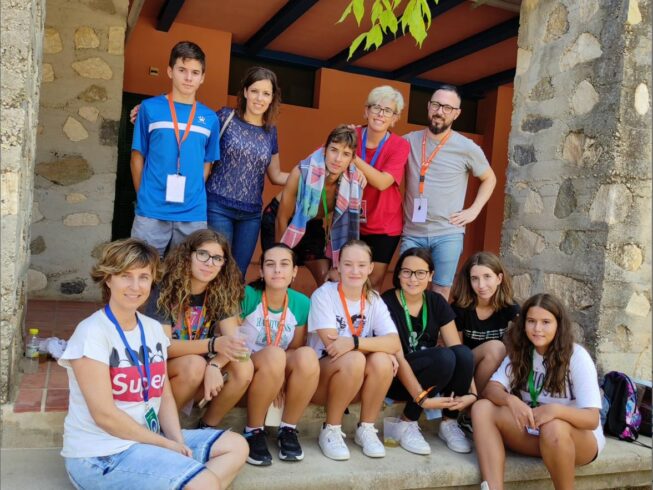 The Xarxa Jove of the Valencian Youth Institute (IVAJ) held last weekend, at the Moraira hostel, its first interregional meeting between young people from the Marina Alta and the Marina Baixa, a space to exchange experiences and continue with the training process as youth correspondents.
The Councilor for Youth of the Teulada City Council, Verónica Martínez, thanked the celebration of this act in Teulada Moraira, highlighting "the importance of these meetings to exchange ideas, experiences, opinions, create synergies, work together and continue with the training of correspondents, who are the link between youth and the administration". As the councilor affirms, the correspondents play a fundamental role, since they are the ones who voluntarily collaborate with the youth department to detect needs.
It should be noted that the task of the correspondent is to act as a spokesperson for the youth towards the local administration; collect proposals and youth initiatives to manage them with municipal support; transfer the initiatives of the administration to educational centers, such as youth activities that are promoted in the municipality, etc.
In the educational centers, the correspondents have information points where they can maintain two-way communication, so that active citizen participation is encouraged through advisory boards, cultural associations, municipal councils and forums, among others. Thus, it is about responding to youth demands, giving them a voice and prominence in decision-making that directly affects them.
Thus, the first days of correspondents were based on the exchange of experiences between colleagues from Teulada Moraira, La Safor, Alfàs del Pi, Altea, Callosa d'en Sarrià, La Nucia, Finestrat, the Commonwealth of Marina Baixa, Gata de Gorgos, Ondara, Pedreguer, Pego and La Vila Joiosa.
The youth promotion staff of the two regions organized the conferences on youth information, the environment, volunteering, emotional well-being and health, with the collaboration of entities that are already part of the social network of intervention with the youth.
In the same way, training on equality, gender violence, new masculinities and sexual diversity was addressed, with the help of the Commonwealth of Social Services of the Marina Baja.
On the other hand, the techniques of the UPCCA from Teulada Moraira and Pego, came together to train in health, with a meditation activity for self-knowledge, a conscious walk and a workshop on the prevention of addictive behaviors.
Finally, the Pego VIU association oriented the participating groups in terms of environmental volunteering, with a workshop for the recognition of native species and the production of oils from them.