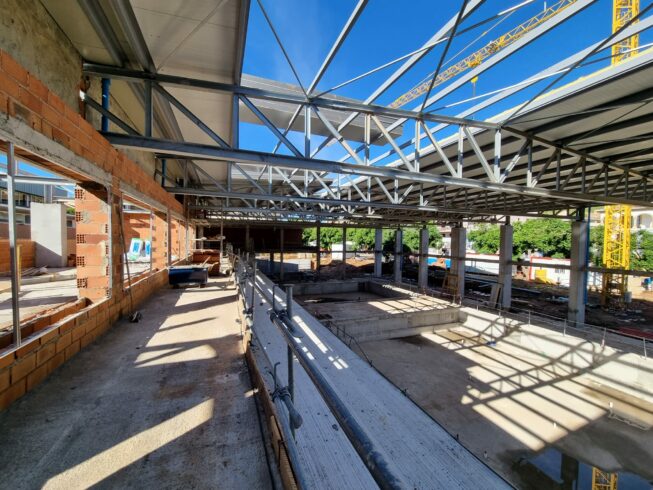 The mayor, José Chulvi, and the Councilor for Sports, Alberto Tur, this morning visited the works of the Xàbia municipal indoor pool. A project that began to be built a year ago now and is already well advanced.
After the structural work, the construction of the two pool basins, the basement where all the water treatment systems and the general structures of the building, the changing rooms and cafeteria on the first floor will be installed; gym and stands on the top floor, as well as all the services and infrastructures, such as a lift shaft.
Currently, the work is focused on the roof and then the property will be closed and work will begin on the tiling, installation of services and finishes. The construction management of the responsible company have stated that the bulk of the project has been completed and have advanced that, according to their forecasts, the pool will be finished in April. Even before the maximum deadline for the work.
Both the mayor and the sports councilor have been very excited to see how this project is developing, which will meet a historic demand of the people. In addition, the building will be connected to another sports infrastructure: the Palau d'Esports Miguel Buigues, a connection that has also already been completed.
The pool is located next to the municipal sports pavilion: between the streets M. Bordes Valls, Joan Fuster and Vicent A. Estellés and occupies an area of more than 3,000 square meters. It will have two pool basins and an activity room for gymnastics and physical maintenance, a three-row grandstand, changing rooms suitable for teams and a small cafeteria.
The construction of this long-awaited project was awarded for 4,679,118.40 euros and has a subsidy of 3 million from the Generalitat.