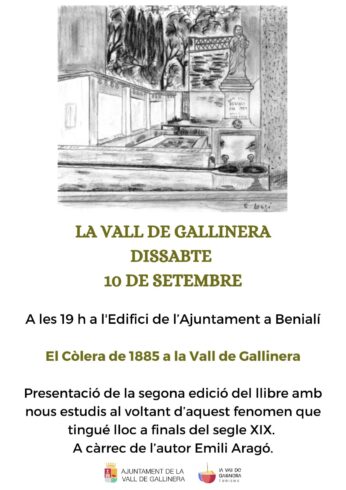 The Vall de Gallinera Town Hall has reissued the book Cholera of 1885 in Vall de Gallinera, published in 2007, with new studies and contributions on this phenomenon suffered by the municipality, causing high mortality rates at the time.
The author, Emili Aragón, has expanded the study with a more global perspective of the disease, since a catastrophe of this entity changes all aspects of society: health, social, political, cultural, etc.
The author affirms that a good reference has been the digital consultation of the press of the time through the Newspaper library of the National Library of Spain, where he was able to monitor daily not only the freezing numbers of sick and dead, the heated debates in Congress and the Senate between the government and the opposition or the official measures to be taken by the different administrations, but also personal or community violence that the population had to endure, incredible acts of selfishness or heroic solidarity, situations of extreme violence and desperation, the behavior of people in the face of death and its relationship with popular devotion or the lies of local administrations to avoid the collapse of the economy, hunger and misery.
The author has also been able to access, and this is reflected in this reissue, the documents whose existence was unknown in the first edition, including the 1885 statistics and the 1886 report written by Dr. Jaume Ferràn, the diary of Dr. Miralles de Ondara or the works in the regional area of J. Bernabeu on Pego and JX Esplugues on Dénia.
In the present study it has been considered to make some brief comparisons with the epidemic of Covid-19, since since the flu of 1918 the Spanish population had not experienced a similar health situation.
With these actions, the Municipal Council manages to preserve episodes in the history of Vall de Gallinera.