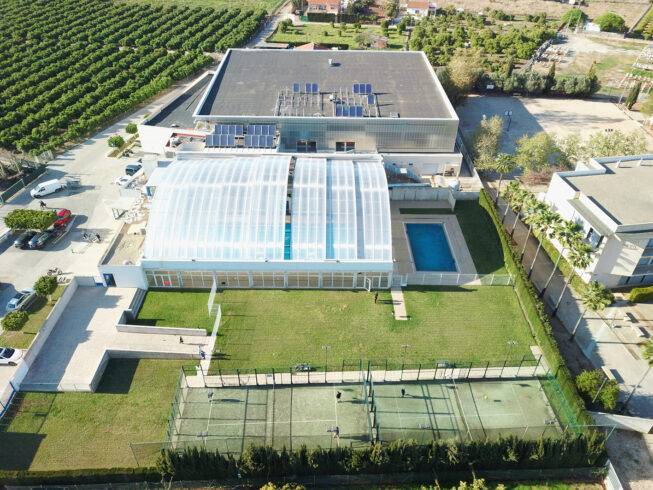 Ondara has already signed the reconsideration act to begin work on an important project to improve municipal sports facilities: the covering of the small outdoor pool, which is located on the premises of the Ondara Municipal Pool.
After the signing, the works will begin in the coming weeks and will have an execution period of 2 months. In the visit to the facility to sign the reconsideration act, accompanied by the technicians, the delegate councilor of SINMA (the municipal company that manages the pool), Francesc Giner; the Councilor for Building Maintenance, Miguel Gomis; and the manager of SINMA, Juan Femenia.
The Ondara City Council requested a subsidy from the Provincial Council of Alicante, framed in the Plan + Sport, to cover the small outdoor pool, which was granted for 50,107.52 euros (the maximum amount requested by the City Council). It corresponds to 54.75% of the cost of the work, which has a total budget with VAT of 91,623.56 euros. The rest of the amount will be assumed by the consistory itself.
The project to cover the small outdoor pool of the Ondara Municipal Pool enclosure tries to cover, with an aluminum and polycarbonate structure, the outdoor pool basin and connect it with a tunnel to the pool enclosure. Its proximity to the large pool allows it to be linked by two short corridors and, in addition, the polycarbonate panels will be mobile to open in the summer, allowing proper ventilation if necessary.
The roof will have dimensions of 24.14 meters in length and 11.19 meters in width. In this way, the perimeter area of the outdoor pool is covered, with a total deck of 270 m². The works will be carried out this year, with the aim that by 2023 the small pool will already be covered and can be operational at the beginning of the year.
The purpose of covering this pool is directly linked to the heating of the water and the installation itself, since this is the only solution to be able to use it all year round. This action will make it possible to offer other activities that until now could not be carried out in this outdoor pool; so that the capacity of both users and activities (learning and rehabilitation) of the Municipal Pool as a whole would be increased.