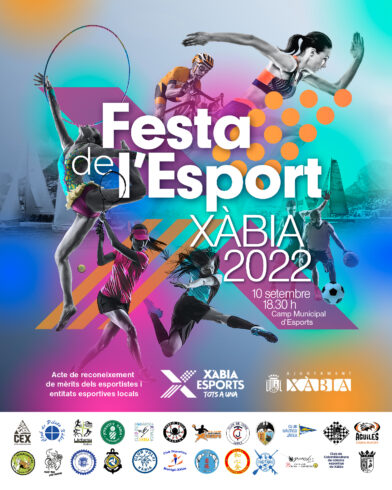 This Saturday, September 10 at 6:30 p.m., the I Sports Festival in it Xàbia Municipal Esports Camp. The City Council wanted to promote this initiative to recognize the merits of each and every athlete in the municipality, thus differentiating it from Dia de l'Esport that was already held on April 6.
In the Festa de l'Esport all the clubs of Xàbia will be present, and all the provincial, regional, national or even international merits that our athletes may have had during the past season will be recognized.
In addition, with this act, of annual vocation, it is intended to value the work that the sports clubs and entities of Xàbia do throughout the year, working every day to promote the practice of sport.
The mayor, José Chulvi, has encouraged to enjoy all the activities carried out by the sports clubs of Xàbia, and has also wanted to remember the importance of doing sports and the benefits for our health that this entails.
The councilor for sports, Alberto Tur, has remarked that enrollment for municipal sports schools is still open until this Saturday, September 10. In these schools you can practice a multitude of sports, and even some new ones in the municipal offer, such as skating. All the information can be found in the 2023 sports offer magazine and registration can be accessed from the Sporttia App.