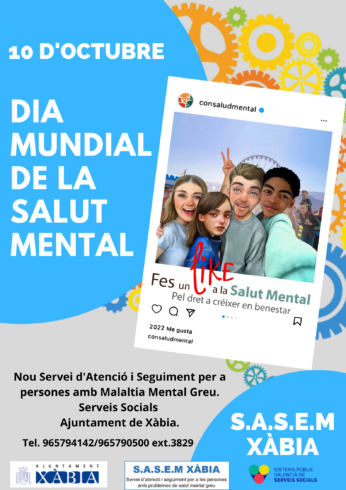 The Department of Social services of Xàbia He has launched SASEM, a new Attention and Follow-up service for the Mental illness Aimed at people between the ages of 18 and 65 with serious mental health problems and is subsidized by the Ministry of Equality and Inclusive Policies.
As explained by the department directed by Rita Berruti, the main objective of this program is to accompany people with severe mental illness (such as schizophrenia, bipolarity or personality disorder) in achieving an integrated life in the community, facilitating the stay in their social environment.
For this, psychological and social intervention will be carried out, monitoring and support will be made in carrying out basic activities of daily life and their social and labor insertion will be supported. There will also be group activities and workshops as well as care and support for families and caregivers.
The SASEM begins to roll in coordination with the other community support service for people with serious mental illnesses, such as the TAPIS workshops. The team is made up of a psychologist and a social worker who can be accessed through the referral of primary care Social Services or through the municipality's Mental Health department. For more information, interested persons can call 965794142/5790500 extension 3829.