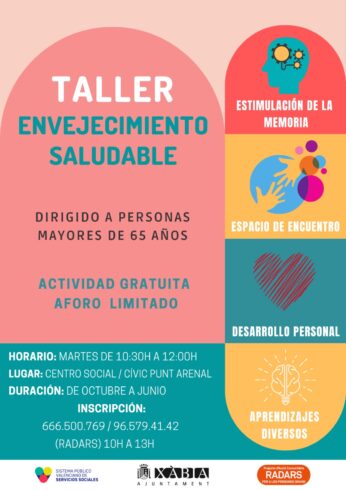 The Department of Social services of Xàbia presents one of the novelties for this course. It's about a workshop aimed at people over 65 years of age and which is aimed at giving them small exercises and guidelines to maintain their cognitive abilities and promote healthy aging.
As Councilor Rita Berruti explains, the programming will focus on carrying out various activities aimed at enhancing memory, attention, perception, creativity or reasoning. It will also serve to offer them a meeting and socialization space in which to share time or interests, exchange experiences and create ties, thus promoting participation and active ageing.
This activity is open and free, and is organized by the Department of Social Services within the Radars Project and the Persones Majors Area. The workshop will take place from October to June on Tuesday mornings (from 10:30 a.m. to 12:00 p.m.) in two different spaces: one group will be in the Xàbia Social Center and another in the Cívic Punt Arenal office.
The capacity is limited and in order to participate it is necessary to inscription Previously through the contact telephone number 666500769 / 965794142 from Monday to Friday from 10 a.m. to 1 p.m.
Other municipalities with a memory workshop
The registration period for the 2022/2023 Memory Workshop in Teulada Moraira is open
from the department of Social services of the Teulada Town Hall, the registration period is open, until full places, for the Memory Workshop 2022/2023.
This workshop, subsidized in part by the Provincial Council of Alicante, is aimed at memory reinforcement activities for adults over 55 years of age. The sessions will take place every Monday at Espai la Senieta in Moraira, from 9:30 a.m. to 11:00 a.m. and every Thursday at the Teulada Social Center, from 9:30 a.m. to 11:00 a.m.
The registration requirements are the following:
– Over 60 years.
– Spouse or partner over 60 years of age.
– Over 55 years of age as long as the social or health situation is accredited.
– Registered in the municipality.
They can request their registration through the SIT of the Teulada City Council, the SIT of Espai La Senieta in Moraira or by calling 965 74 10 01.
The consistory encourages those interested to participate in this type of activity, since memory is a priority in our health care.