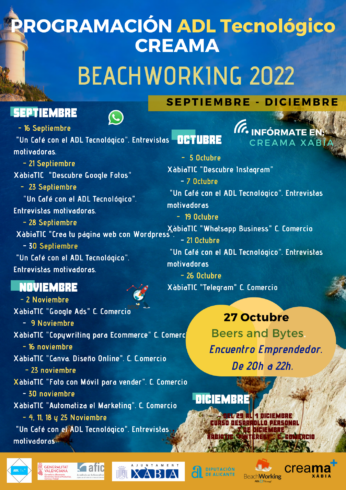 project schedule Beachworking return to the training agenda of Xàbia with the vocation of publicizing new tools and training free of charge to merchants, businessmen and workers who decide to bet on technological innovations.
The program starts with a series of XàbiaTIC with conferences such as Create your website with WordPress next Wednesday, September 28. In October, they will talk about Instagram, Wahtsapp Business and Telegram and, for November, the themes of Google Ads, advertising that works; Copywriting in Ecommerce; Canva as Graphic Design; Photos with Mobile to sell; Active Campaign and pinterest. These conferences will be in online format and are included in the Trade Cycle organized by cream.
Another of the objectives of the project is to attract digital talent and position the municipality as a benchmark for the digital nomads who visit us. That is why networking events are organized and other entrepreneurial experiences are made known.
One of the highlights of this program carried out by the Adl Tecnológico de Creama Xàbia will be the "Beers and Bytes" scheduled for next October 27, a meeting between entrepreneurs who tell their story and serve as inspiration for other businessmen and entrepreneurs. On this occasion, there will be three women entrepreneurs who will tell their experiences.
The year will end with a personal development course from November 29 to December 1 in which aspects of personal and professional growth will be addressed.
In addition, the virtual space "A coffee with the DL" is maintained, a series of interviews with relevant people who are part of the beachworking community.