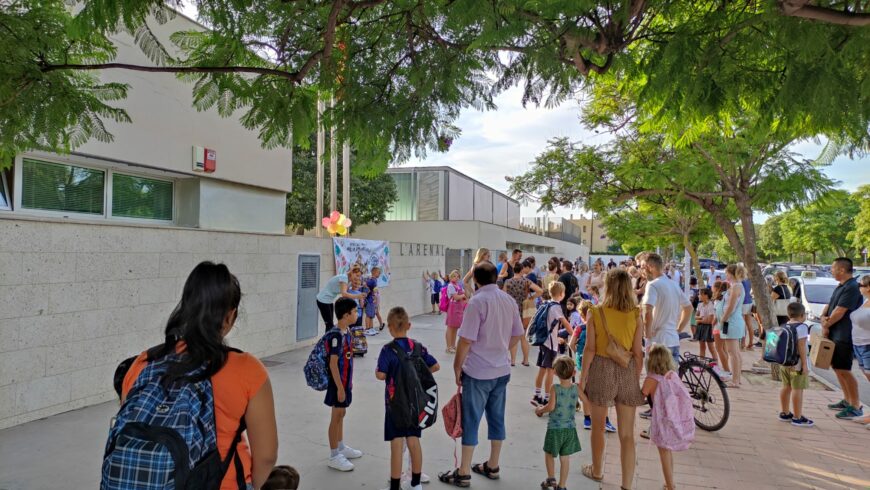 The Xàbia schools The doors have opened today to welcome the 2022/2023 academic year. According to provisional data from the Department of Education, a total of 1,878 boys and girls have returned to classrooms or started their schooling.
By centers, CEIP Arenal is the one with the most students with 452 students, followed by CEIP Mediterrània with 372 students, Graüll with 355, the María Inmaculada concerted school with 219 students, while 217 attend Trenc d'Alba and 212 to CEIP Port.
These are provisional figures, since during the summer 65 new schoolchildren have registered in Xàbia and today students continue to enroll, which will be distributed by centers taking into account the ratios of the classrooms.
During the summer, the City Council has carried out maintenance and fine-tuning work in the centers such as painting and small repairs. One of the most far-reaching has been in the Trenc d'Alba, since the entire floor of the infant classrooms has been replaced and an integral painting was carried out in the infant and primary classrooms.
Xàbia adapts the pedestrian crossings for people with autism
He Town Hall of Xàbia signed an agreement with the Autism Association of Xàbia and the TEAVIVAL Association with the intention of promoting the inclusion of people with Autism Spectrum Disorder (TORCH) in the town.
The collaboration has made it possible to adapt the crosswalks to promote their autonomy, their road safety and their inclusion in society. On the first strip, a sequence of blue pictograms will be screen printed so that people with ASD can understand how to use them, thus improving their road safety.
The pictograms have been painted in strategic places such as the itineraries that go to schools, in parks or sports infrastructures.