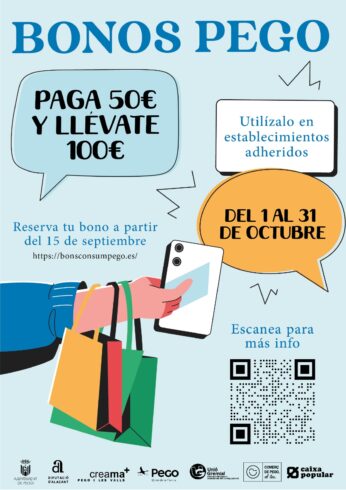 As of today, September 15, you can request an appointment to collect the promotional campaign cards of the Pego Consumption Bonds. The appointment must be booked through the Web and on September 19 the delivery of the wallet cards will begin. Finally, from October 1 to 31 is the date set to spend the vouchers in the businesses adhering to this campaign to promote consumption in local businesses.
It is worth noting the great variety of the more than 60 Pego companies involved in this campaign. A diversity that covers all sectors, basic necessities such as bakeries, as well as fashion, telephone, electrical appliances and hospitality establishments. To know the participating businesses you can consult the link: bonsconsumpego.es/location/
An action to encourage local consumption
This campaign to promote consumption in local businesses is being carried out thanks to the joint work of the Pego Town Hall and the Provincial Council of Alicante. In addition to technical support CREAM-Pego,  Commerce Pego (Association of Pego Merchants) and the Guild Union.
Commerce Pego, is integrated into the Unió Gremial and is carrying out a great deal of support in dissemination and communication so that the Bonos Consumo Pego campaign can be carried out through the cash card system. A procedure that makes it easier for all types of businesses, regardless of their size and their average ticket, to participate. In the same way that it facilitates that all citizens, over 18 years of age, who acquire the card, can use it freely.
For his part, Juan Motilla, president of the Unió Gremial, highlighted the efforts of all the entities involved and declared that "we hope that the benefit of this campaign will be far-reaching and have a significant impact on Pego's trade, mainly because it has a very simple operation for the participating establishments".