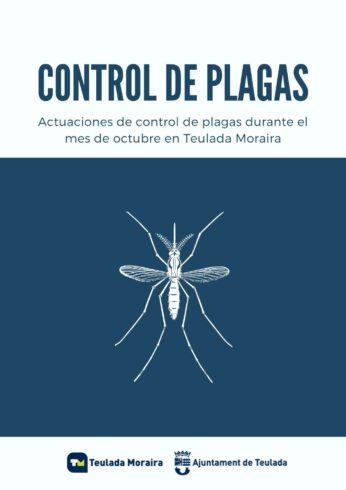 During this month of October, the following pest prevention and control services will be developed in the municipality:
1. Mosquito control
The service for the control of mosquitoes in the municipality, in the month of October, is divided into two different services; cataloged sources of the municipality and scuppers for the control of tiger mosquito.
The treatment of the scuppers and cataloged sources of the municipality will take place on October 20.
• Pontet de la Vía path and ravine
• Marjal de Senillar
• Cami Camarrocha
• Cami Font Santa
• Treatment plant
• Cami de la Serra
• Font de l'Horta
• Font de la jana
• Any other source of proliferation in the public sphere.
2. Playground furniture
Likewise, the disinfection of the furniture will be carried out on October 14.
3. Processionary in pine forests
In addition to these actions, preventive treatments are being carried out to prevent the appearance of the pine processionary moth.
For this, work will be carried out to spray biological products in the large pine forests of the municipality, such as the exterior of the San Vicente Ferrer de Teulada public school, Sendera Portitxol, Platgetes, Río Jalón street, Oviedo street, Camino Viejo del Portet, Ifach and Tarragona street.
Endotherapy techniques are also used for this work, which consists of drilling holes in the trunk of the conifer and the subsequent injection of systemic products that are dispersed through the sap of the tree. In this way, the larvae of the pine processionary moth feed on the needles of the tree and die when ingesting them.