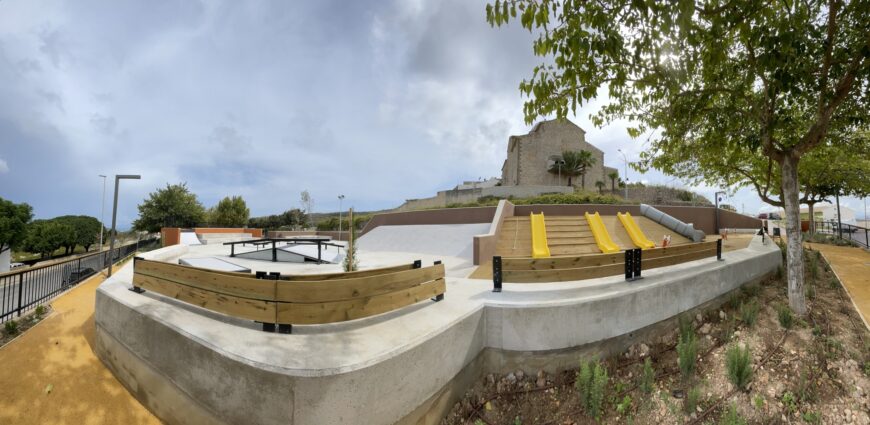 He Poble Nou de Benitatxell has released the new playground with zone of skate park At the entrance to the municipality through Xàbia, at the foot of the Santa Maria Magdalena church. In addition to this space for children and young people, the action has also included the redevelopment of the sidewalks, new lighting and the introduction of trees and landscaping.
Specifically, in the area for children's games and skateboarding, a complete remodeling of the space has been carried out, which has renewed the image of the complex and has optimized the spaces. A unique pedestrian crossing space has been set up, accompanied by green areas and a continuous zigzagging bench has been installed that also serves to delimit spaces. The park also includes new play elements such as a climbing area, slides, seesaws and a sandbox. Regarding the main road, trees have been installed by means of tree pits every two parking spaces and new led luminaires.
This area occupies a strategic place in the town, since it is one of the first scenarios observed by people who access the historic center of Benitatxell from Xàbia and the nearby urbanizations in the north of the municipality. In its immediate surroundings there are also some of the most emblematic buildings and locations of Poble Nou de Benitatxell: the church of Santa María Magdalena and the Municipal Cemetery.
The state of deterioration of the area and the poor quality of the design of the space, as well as the lack of vegetation, until now offered an unattractive image. The purpose of this project has been, in short, to improve the urban landscape of this access front, simultaneously solving the problems of operation and the lack of coherence of the playground and the skate area.
"This action is one more example of the town model that we want to achieve, with a lot of green, beautiful and welcoming to people," said the Councilor for Urban Planning, Jorge Pascual. In addition, he added, "a request from the Consell de la Infància i l'Adolescència is being addressed, which on several occasions has requested that the problems of unevenness in the skatepark be solved."
Vandalism the first days of opening
Unfortunately, the park has been the object of vandalism in its first days of opening. This Tuesday, the skatepark area woke up with a large hole in one of the ramps, a mattress and remains of garbage. The municipal services have already taken charge of removing the mattress and the waste, and the hole in the ramp will be repaired shortly.
From the City Council they regret these unfortunate and disrespectful acts, which damage facilities that belong to all the poor men and women. The government team asks to respect this and other common areas, and requests the collaboration of the citizen in case of witnessing events of this type.