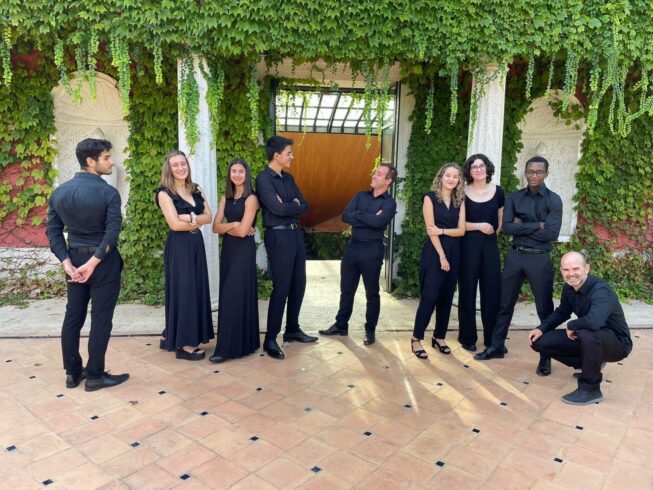 He Poble Nou de Benitatxell keep betting on the music and the culture, this time also in All Saints. From October 30 to November 1, the Department of Culture has scheduled a series of concerts to commemorate this solemn festival for all the deceased.
After the successful pilot experience last year, in which, in addition to the central concert, the residents welcomed the musical atmosphere in the cemetery, this year the initiative is repeated with an expanded program.
Programming
The cycle will start this sunday 30 with the performance of the chamber orchestra Marinae Ensemble, a regular in the poblera cultural programming that always has the support of the public. It will be at 7:30 p.m. at the Santa María Magdalena parish church, and they will offer a repertoire of music from the 20th century. Marinae Ensemble is a chamber orchestra specialized in Baroque and Romantic music. Directed by Sergio Camarasa, it is made up of 15 young instrumentalists from Xàbia, Dénia, Ondara, Pego and Benissa who are studying professionally at conservatories in the area or who have already graduated with higher music degrees.
In two years of experience, the Marinae Ensemble has managed to attract the attention of music fans from the Marina Alta and has performed at the emblematic Co-Cathedral of San Nicolás in Alicante and in regional venues such as Xàbia, Dénia, Ondara, El Poble Nou de Benitatxell or Pedreguer, where they had a large audience of more than 400 attendees at their last concert in the Jardins de l'Albarda. All this concert and training journey has recently been recognized by the Salom Sabar Foundation of Dénia as one of the cultural projects awarded in its latest edition, in which 38 regional initiatives were presented.
He monday 31 it will be the turn of Orpheus of Xàbia, a veteran and experienced vocal group that will offer a concert of sacred music after mass, at 8:15 p.m. The centerpiece of the concert will be 'Misa prima', composed by the group's own director, Pepe Mayor. They will also perform other compositions by Beethoven, Bach or Mozart.
The Orfeó de Xàbia held its first concert in 1979. Since then, in its 43-year history, it has been directed by the xabienc Major Pepe. He has toured countries such as Austria, Portugal and the entire Spanish territory, from north to south.
The cycle will end on Tuesday, November 1, with a performance by the string trio of the Marinae Ensemble, which from 11:00 a.m. will entertain with music one of the central days in which people bring flowers to their deceased.