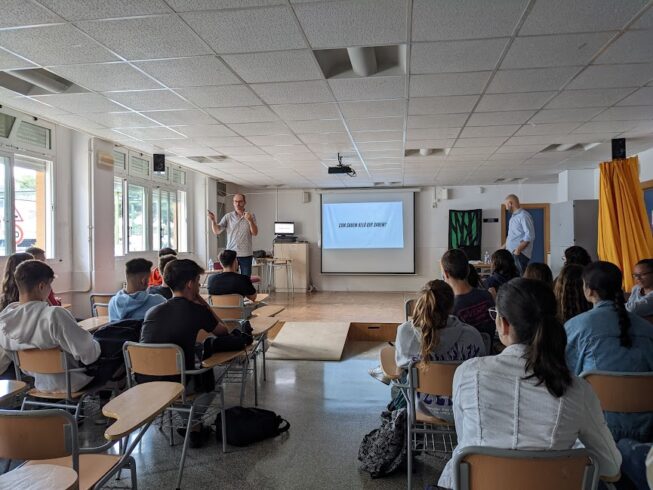 The students and students of second year of high school have left their classrooms to participate in a conference on critical thinking titled Why do we think what we think?, which has been led by Vicent Botella i Soler, physicist, data scientist and writer; and by Javier López Alós, doctor of philosophy and writer.
According to the authors, their exhibition is "a conversation between science and the humanities to understand what we think and decide, in the current context of excess information and stimuli, fake news and social networks. We review our cognitive biases to think better and be a little less wrong.
From the perspective of these two fields of knowledge, they have been reviewing social experiments so that students understand how human beings behave in the face of social pressure. They have also made visible how we acquire ideas without testing them due to overconfidence. At this point the reflection among the students began. Some have expressed how they thought they were experts in some subject but, when they went to high school, the knowledge they had to acquire multiplied. Now they approach learning from another point of view.
Both science and humanities baccalaureate students have managed to reach the same conclusions thanks to the multidisciplinary approach of the conference and have positively valued the experience.
"This is an opportunity to help the youngest to form their critical thinking, to create their own vision of what surrounds them and learn to structure their thoughts in a more mature and conscious way," said the councilor for the Youth area. Veronica Martinez.