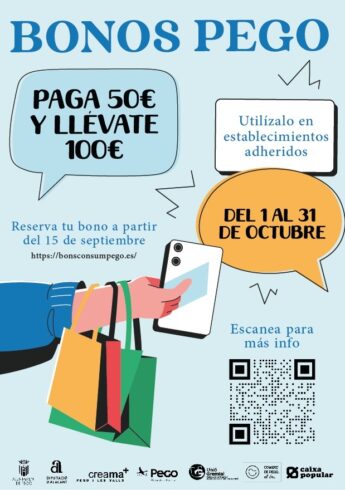 Next Monday, October 31, the term to spend the cards of the consumer bonds in different shops Pego. An action to promote local commerce, which has been carried out through joint work between the Pego Town Hall and the Provincial Council of Alicante. In addition to technical support CREAM-Pego,  Commerce Pego (Association of Pego Merchants) and the Guild Union.
From Unió Gremial they describe the campaign as successful with the participation of about 70 businesses in this initiative. A diversity that covers all sectors, basic necessities such as bakeries, as well as fashion, telephone, electrical appliances and hospitality establishments. Pego's commercial fabric has been fully involved in this action.
Obviously, all the Pegolinos have also turned to this initiative. Proof of this is that, in a very few days, all the bonds were delivered. In this way, the campaign has benefited, on the one hand, consumers for whom it has meant 50% savings on their purchases and, on the other hand, local businesses that have been given greater visibility.
The initiative started on October 1 and the residents of Pego have until the 31st of this month to spend the cards they acquired in the previous phase. It is worth noting the convenience and versatility of the system used for wallet cards. A procedure that makes it easier for all types of businesses, regardless of their size and their average ticket, to participate. In the same way that it facilitates that all citizens, over 18 years of age, who acquire the card, can use it freely.