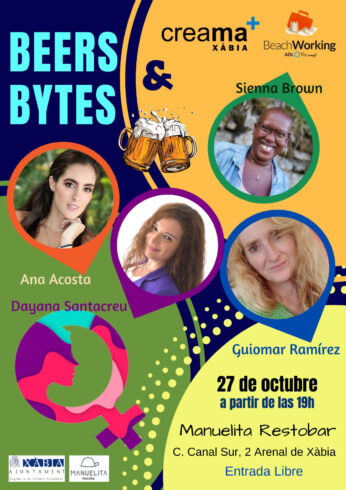 Next Thursday, October 27, the Beers & Bytes to Xàbia, some meetings designed to be a meeting point between businessmen, entrepreneurs and digital nomads.
On this occasion, a panel of female 100% speakers has been chosen, led by four entrepreneurs who have started new business models and opted to create a company: Ana Acosta, Sienna Brown, Guiomar Ramirez and Dayana Santacreu.
Ana Acosta is a famous writer who is the author of two best sellers "Rebellious parenting" and "The metamorphosis of a mother." Through her blog Mamá Minimalista, which has more than one million visits and fifty-five thousand followers on social networks (@mamaminimalista), Ana has become one of the main references in conscious parenting.
Sienna Brown is a New Yorker who, after working in a neighborhood like Brooklyn, came to Spain looking for a personal change. He currently resides in Xàbia, which he considers a paradise, and has created several projects among which www.lasmorenasdeespana.com stands out.
Guiomar Ramirez-Montesinos is a psychologist, astrologer, transformational coach, as well as a writer. She has been an entrepreneur almost since she was born and has developed several projects in Xàbia, among which Vivir desde el Ser stands out, an educational-informative program that provides knowledge and practical tools for personal development to learn to align with one's own center, with the Being.
Dayana Santacreu, restless mind always looking for the change she wants to see in the world. Serial entrepreneur, businesswoman, trainer and investor who has created companies such as Mascotetes and Empresas Con Conciencia, where she highlights training products such as her LinkedIn Club (LiderIn) and Empresabias, where she helps self-employed women make the leap to becoming entrepreneurs.
At the end of the presentations, a more informal meeting will be held so that attendees can exchange ideas, contacts or projects practicing the objective of this event, which is to carry out a kind of networking among all.
The Beers and Bytes It will be in person, at the "Manuelita" Gastronomic Restobar located in Arenal (C. Canal sur, 2 next to the Fontana canal) starting at 7:00 p.m. Admission is free for all attendees and once the event is over it will be possible to maintain a more informal contact and exchange visions of new projects.