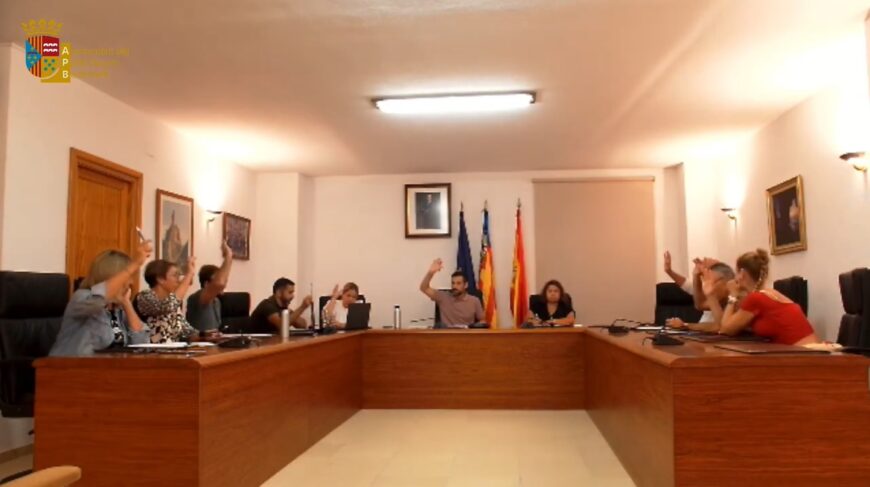 Last Thursday was held the full municipal ordinary of September in El Poble Nou de Benitatxell. In it, in first place, with six votes from the government in favor and three from the opposition against, a credit modification of 504,594 euros was approved. Next, the social benefits were approved, also with the opposition voting against.
This point generated some debate. For his part, the spokesman for the municipal group REDcv El Poble Nou de Benitatxell justified his vote against alleging that public workers have lost prominence with the current executive. "It is a government that is based more on positions of trust and on external ones than on the public function," said Josep Femenía.
For his part, the mayor, Miguel Ángel García, took the opportunity to deny this statement with some data. He clarified that, in September 2018, before entering the government, there were 16 people providing outsourced services at an annual cost of 255,845.33 euros, while today there are six external ones, which cost the City Council 68,352.60 euros. This represents a difference of 187,492.73 euros per year.
Furthermore, he listed them. In 2018 there were external professionals in communication, IT, legal services in Social Services, general administration legal services, legal services in Urban Planning, architecture, two in technical architecture, industrial engineering, two in environmental engineering, psychology, two in translation, sports and Labor and tax advice. In 2022, economic advisory services for accounting and intervention, legal services in urban planning, industrial engineering, psychology, employment advice and contracting advice are outsourced.
"Those are the famous advisers with whom you have filled your mouth. You were 16 and we were 6. The government of the advisers was yours. Another fallacy of the opposition that I am glad that you have brought out today and that thanks to this I have been able to explain, "said García, who also added that the squad has been provided with stability. "We found a very provisional town hall and little by little we have been restructuring it and giving it body. The institution is today very different from how we found it".
The plenary session also approved other points such as the ratification of the statutes of the Teulada-Benitatxell Water Consortium with which a technical commission is created with representation of a technician from each town hall, or the local holidays of 2023, which in Benitatxell will be the days July 24 and 25.