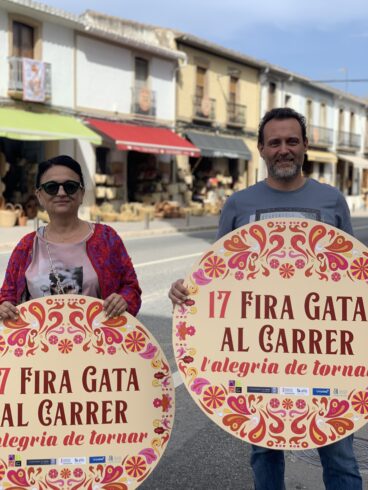 The Councilor for Commerce, Toni Signes, and the President of the Gata Commerce Association have presented the 17th edition of the largest local 100% trade fair in the region, which will be held on October 8 and 9 after two years stop.
For Paqui Signes, President of the Gata Business "the abundance of businesses in the town is a miracle that we have to appreciate and we have to help make it continue to grow. In Gata we have a very strong, powerful and highly diversified business. We have the well-known, more traditional craft sector, which is at its peak in summer, and we have numerous hat, carrycot, and handbag factories... and on the other hand, we have an excellent local trade that distributes throughout the town, as well as a very beautiful historic center".
For his part, the Councilor for Commerce, Toni Signes, commented that "commerce is life for the people, it is commerce that activates Gata every morning and is the one that accompanies us through all the streets. This year the fair deserved to be a showcase of what Gata has to offer, and that is why we have dedicated all available resources to making this fair one of the most important we have ever had. The City Council has put in place the entire security, assembly, lighting device and also a handful of cultural activities to accompany the extraordinary effort made by the merchants and contribute to the success of the fair".
This year the fair promises to be quite a gastronomic experience and also a surprise for the senses. Consult all the programming and news from the fair.