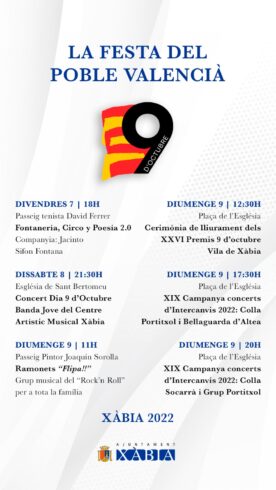 The high probability of rain foreseen for this Friday forces us to reorganize the festive agenda foreseen by the October 9 in Xàbia. The main change affects the delivery of the XXVI Vila de Xàbia awards, which is moved to Sunday, October 9, at 12:30 p.m.
The institutional act will recognize the Musical Art Center of Xàbia, Pep Segarra and Esperanza Salvatierra posthumously. It is held outdoors -in the church square- to welcome all the winners, especially the members of the groups of the Musical Art Center (band, orchestra and youth band) who will also perform some pieces during the ceremony.
As a result of this change, it has also been considered to advance the group's performance to 11 o'clock. The rock band will offer a fun concert for the whole family on Sunday morning in the Comare Maruja Varó square.
The rest of the programming is maintained. Both the circus show scheduled for Friday at 6:00 p.m. on Paseo David Ferrer and the concert on Saturday, October 8 at 9:30 p.m. in the church of Sant Bertomeu by the Banda Jove del Center Artístic Musical.
As for Sunday, it will concentrate the entire agenda since, in addition to the institutional act and the performance by Ramonets, it will maintain the festive atmosphere in the afternoon with the Colla Portitxol, which has two performances planned as part of the cultural exchange campaign. At 5:30 pm in the church square they will play together with Bellaguarda tradicions Altea and at 8 pm, also in the square, the Grup Portitxol will share the stage with the colla La Socarrà de Xàtiva.